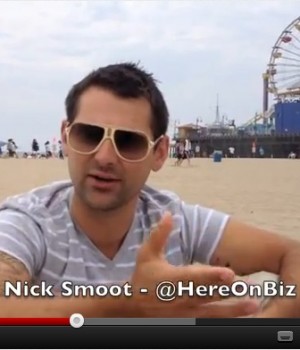 In this edition of the Anthill Quickfire Question, I sat down with Nick Smoot, Co-founder of Here On Biz.
A question that people ask all the time is how to secure meetings with angel investors, business development partners and VCs.
Nick and his co-founder Allen Hartwig have only been out of stealth for a couple of months but, in that time, they've secured meetings with companies such as Seqouia, HP and LinkedIn. They are currently raising their series seed round.
As a perfect example of a company raising some decent money in Silicon Beach (LA), he's a guy who has just done what so many new entrepreneurs are attempting. So, he is a great authority on the art.
Nick Smoot talks about raising money in LA
Need to raise capital? Want to become a more persuasive presenter? Want to master social media? Is it time to overhaul your website? Unlock the library to get free access to free cheat sheets and business tools. Click here for free business tools.