Home
Cool Company Awards 2017
myEd intentionally sheds the legacy of the "industrialised model of teaching". Unlike other products, whilst it does this, myEd intelligently keeps some key familiar aspects of a teacher workflow, making it accessible to a wide range of teachers.
The Room Xchange solves this problem by matching busy, stressed households, Hosts, with Guests who provide two hours of domestic help around the house each day in Xchange for food and accommodation. The Host provides the space. The Guest provides their time.
We are turning every wheelchair into a 'Google car' on map cities. We will create that wheelchair Icon on Google Maps
By paying after the confirmation of the sale its retailers can directly measure their ROI. Cashrewards is now the cheapest way to shop in Australia at over 1200 retailers including Amazon, eBay, Apple, Woolworths, Dan Murphys, AliExpress and Nike.
Whispli enables employees and business stakeholders to inform anonymously their organisations on potential (or actual) risks and breaches of good, ethical business practices before it becomes a threat.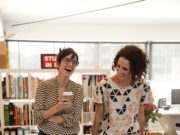 Austockphoto isn't selling images of exported, clichéd Australia that might appeal to an international tourist market, instead they are intentionally building a collection of storytelling images which Australian audiences can relate to that celebrate the everyday.
Only two and a half years into business, Marquette is already gaining attention from branding agencies around the world and even large corporates who desire a more tailored and contemporary approach
Sidekicker is an on-demand staffing platform that allows businesses to hire staff at the click of a button, specialising in the temporary and casual world. It does this by connecting businesses directly with an engaged pool of over 11,000 skilled workers (Sidekicks)
The countdown to the Cools has begun. From the hundreds of applications we received this year, this impressive posse has been selected as our Top...