The inaugural B2BExpo 2016 scheduled for April 27-28, organised by Australian Business Forum (ABF), is an ideal forum for SME owners to meet and connect
New studies show that a CBD address and a fixed landline will triple a small business' prospective market unlike those that advertise only a mobile number
We need to arm our current and next generations of entrepreneurs with the skills, tools and confidence needed to fully tap their creativity and innovation.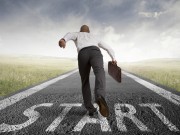 There are no wrongs or rights when it comes to starting out - mistakes are part of learning - but here are four tips on starting a successful business.
Over half (53 per cent) of Australian SMBs take up to a year to start their professional services business, according to a new study from Servcorp. Karen Thompson Walker's TED talk could help.
In this digital age where companies are perpetually trying to stay ahead, the recently released Servcorp Good Business Study has revealed that too much...
In this episode, Eckersley-Maslin spends a day in Paris, encounters his first setbacks and can be seen completing his Anthill 30under30 application while on the Eurostar! (He also scored himself lunch at Le Jules Verne on the Eiffel Tower and a potential distribution partner, demonstrating the truth in his sentiment that luck is self-made.)
Sebastien's plan was to present that model to the likes of Donald Trump and convince him to donate a portable shelter every time he builds a condo (for placement in areas struck by natural disasters). And convince Richard Branson to donate a flight to Doctors Without Borders every time a First Class ticket is sold. But like any entrepreneurial adventure, the universe had different ideas.
The motivation behind last month's 'casting-call' is now no longer quite so mysterious. It seems that Anthill blogger Sebastien Eckersley-Maslin has been chosen to take part in an online marketing campaign that will see him circuit the globe and follow his plans to create the world's smallest multi-national.
It was widely predicted that 2009 was going to be the year that hit the first world economies the hardest when it came to the Global Financial Crisis (GFC). And for many it did just that. Australia, however, managed to weather the worst of it. Tim Harcourt reports on Australia's strong export industry and showcases some shining examples of Australian exporters growing in these turbulent times.