How to get leads, appointments, meeting requests and sales using contemporary technologies and strategies. "Short, simple... powerful!"
Download this FREE step-by-step guide and get started. "Short, simple... powerful!"
Download this FREE step-by-step guide and start using social media to build your business. "Short, simple... powerful!"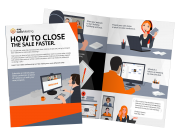 Download this FREE step-by-step guide and start technology to start closing sales faster. "Short, simple... powerful!"
1. Why Cold Calling? 2. Five Steps To a Hallelujah! 3. What Do You Have to Offer? 4. Generating Leads. 5. Your Personal Attitude. 6. Lead Acquisition Tools. 7. Online...
Richard Stafford and Ben Corbett's fast moving award winning South Australian based tech company LeetGeek recently announced its new brand name: Blackbird
Cloud computing might just be what the doctor ordered. Or so Australia believes as it launched a National Telework Week on Monday with what many might consider a very modest goal – doubling teleworkers in the country to 12% by 2020.
Facebook has often been described as the Pub of the internet. In other words, it's a great place to do business! It's the largest social media network in the world... and a powerful business tool. What are you doing to master Facebook?
When: Wednesday 5 September 2012, 1PM Where: At your laptop, Mac or PC! Cost: Complimentary* Have you ever heard of content marketing? It has lots of fancy definitions...
What's the first rule of professional speaking? Don't do it in your underpants -- unless you are Superman, in which case undies-on-the-outside is probably to be expected. However, that doesn't mean that you can't learn the skills to become a confident, professional and outrageously awesome public speaker... sans dacks. That's right. We're bringing back Anthill's UndieEmpire Webinar series.
Darren Rowse is a global professional blogging phenomenon. In 2002, he 'stumbled across a book on blogging. Within five years, his ProBlogger blog was listed as number two on Technorati's most favorited blogs list and number 40 on its most linked to list. His blogs generate around 85,000-100,000 page views... wait for it... a day!
It's now possible for organisations, both large and small, to operate from a head-office of... well... one. You might be a solopreneur or a 15 person upstart. You could be a medium enterprise or a manager in a global enterprise. These days, you don't have to share an office with your team. You may never even meet face-to-face.
On Wednesday, Anthill held its first ever webinar, with the help of Roger Courville and Citrix GoToMeeting. At its conclusion, I invited participants to share any 'take-homes', as a way to reinforce lessons and share their knowledge. To get the ball-rolling, here are three of my own.
It's often said that nine out of 10 small businesses fail in their first year. However, according to credit reference checking agency Veda Advantage, only a very small percentage of businesses few close in their first 12-months. Less than two percent, in fact. However, 32 percent close their doors between their second and fifth, while 21 percent wind up between the sixth and ninth. Growing up can be hard. But it doesn't have to be that way. [PROMOTION]