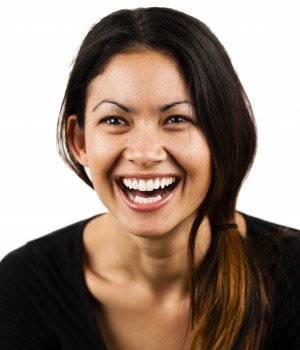 While teaching design programs such as Photoshop and InDesign at the University of Western Australia, Melanie Perkins realised how difficult it was for students to grasp how to use such complex programs.
"It would take a whole semester for students just to learn the basics. I realised the future of design would be entirely different, that it would be online, simple, collaborative and accessible to everyone," Melanie says.
Upon recognising this gap in the design industry, Melanie proceeded to act upon it in 2007 but never imagined that she could pull it off with her small amount of experience and skills.
"To take this idea and turn it into a company was a huge leap of faith. I didn't know anything about software development, hiring people, marketing, or anything much at all," she reveals.
As you read this today, Melanie is the CEO of Canva – a start-up online design software platform that has gained well over 150,000 users after launching just four months ago.
I just did some quick maths and realised that's an average of over 1000 people per day!
Why has Canva enjoyed such success as a start-up?
Melanie points out that while many people can grasp the concepts of graphic design, designing still remains well out of the reach of most of us who do not have a degree in graphic design.
The software that is currently available is both expensive and complicated. There's clearly a gap in the market for easy-to-use software for amateur designers and beginners.
This is where Canva steps in enabling anyone, no matter how design savvy, to generate fresh and professional posters, invitations, flyers, presentations, business cards, etc.
"Canva is a simple program that makes graphic design simple for everyone by bringing together a drag and drop design tool with a library of more than one million stock photographs, graphic elements and illustrations," Melanie explains.
"We launched Canva last year and more than 50,000 people signed up within the first month. It is particularly popular with marketers, bloggers, graphic designers and small businesses that need to create lots of visual content, but struggle with the existing tools," she adds.
Inspiring other starters-up to find their paths to success too
Melanie will be presenting on the Start-Up stage at the Pause Fest, one of Australia's coolest digital festivals, where she will share the journey she has taken to get to where she is today.
"Pause Fest will give us a chance to share our journey of taking a concept from an idea to launching our product. I will share our experience of raising funds, recruiting our team and finally launching our product. There has been an incredible amount to learn," she says.
Melanie added that as one of the two women who will be grace the stage, she feels privileged to get the opportunity to show the world what she has achieved with her team.
Now in its fourth year, Pause Fest brings professionals together from advertising, web, design, animation, music and post-production, as well as related business networks like incubators and start-up communities.
The 2014 Pause Fest, on from February 13 to 16, will be looking at the theme of 'connected' and what that means for the global digital community both now and in years to come. So do you want to listen to Melanie Perkins speak at the Pause Fest? Then go get your ticket here.