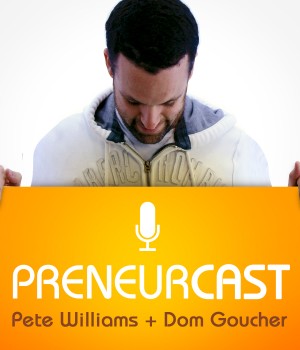 PreneurCast is a marketing + business podcast. Each week, author and marketer Pete Williams and digital media producer Dom Goucher discuss entrepreneurship, business, internet marketing and productivity.
7Levers.com is LIVE! In this special edition, Pete and Dom talk about the 7 Levers of Business Home Study Course, and also Preneur Platinum, the private members area where they hang out, give insider info and answer your questions about all things Preneur.
Pete and Dom give insider info on the 7 Levers Course and Preneur Platinum
Transcript:
Read it now.Hide it.
Sign Up For Our 7 Levers Home Study Course: The 7 Levers of Business Home Study Course is now live. Sign up today at http://www.7levers.com and get 2 months free access to our Preneur Platinum private members' area.
NOTE: We've included 8 weeks of free access to our paid membership area at Preneur Platinum to make sure you get as much support from Pete and Dom and the Preneur Community as possible for your first run through the 7 Levers of Business. While you're inside, be sure to check out all the other cool stuff we're putting in there, like our over-the-shoulder series about how we produce our products and run our businesses, or submit your marketing piece or Web site for a Spotlight so Pete and Dom can give you some hints and tips to improve it and help you pull one or more of those Levers.
Never Miss an Episode:
Subscribe to the show on
iTunes, Stitcher
or
RSS.
Love the Show?
Please take a minute to show some love via a comment or review on either
iTunes
or
Stitcher.