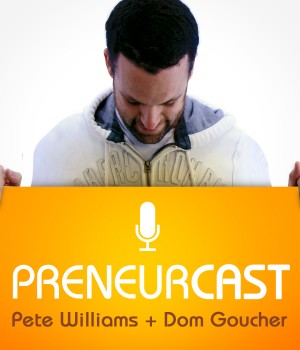 Marketing podcast, PreneurCast, is for entrepreneurs, by entrepreneurs. Author and marketer Pete Williams and digital media producer Dom Goucher discuss entrepreneurship, business, internet marketing and productivity.
This week, Pete talks to Jordan Pine, a specialist in short-form Direct Response Ads for TV. Jordan shares lots of tips with Pete about this fast-moving medium, and Direct Response marketing is applicable almost everywhere, so be ready to take notes.
Subscribe on iTunes:
Jordan talks to Pete about short-form direct-response advertising
Read the Transcript: Read NowHide It

Show Notes + Links:
Books:
My Life in Advertising – Claude Hopkins
Ogilvy on Advertising – David Ogilvy
Reality in Advertising – Rosser Reeves
Tested Advertising Methods – John Caples
Triggers – Joseph Sugarman
Salesman of the Century – Ron Popeil
Online:
http://www.scimark.com – The site of Jordan's company, SciMark
http://scimark.blogspot.com.au – Jordan's blog, where he critiques Direct Response Ads from various products
If you like what we're doing, please leave us a review on
or a comment below.