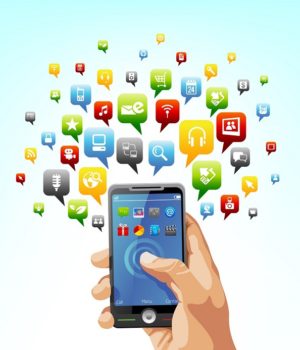 AI, Blockchain, IoT. There's plenty of buzz, and buzz words, that have everybody excited – and maybe a bit confused. However, before businesses get too caught up in, or stressed out about, the next big thing, let's take a step back and get the basics right first.
I would argue that a successful mobile strategy presents one of the biggest profit opportunities for Australian businesses, and it doesn't take nearly the level of investment and resources as being on the cutting edge of tomorrow's tech.
Let's put mobile consumption in context. For one, the typical mobile user touches their phone more than 2,600 times a day.  Across most parts of the world, mobile now accounts for more than half of online transactions, with in-app sales dominating according to Criteo.
In fact, mobile is even expected to generate five per cent of GDP, or $4.6 trillion, by 2022.
Across Expedia Group brands, more than 50 per cent of traffic arrives via mobile , and one in three booking transactions are made via mobile.
Mobile is still very relevant
And while mobile sounds like old school tech – the reality is that there are many businesses who are yet to effectively tap into this platform as a tool for customer acquisitions. At the end of the day, with the capabilities of mobile – and the way we use it – continuing to evolve, have any of us reached our full potential on mobile?
It's not an exaggeration to say that in this day and age, getting your product or service in front of your audience, at the right time, in the right way is more challenging than ever. You may even say that businesses are faced with a consumer engagement crisis.
And yet, we see businesses adopting a 'build it and they will come' strategy. Particularly, when it comes to mobile apps. But, assuming your customers will automatically download your app just because it exists is a naïve approach. You see, consumers are flooded with choice; 3.6 million apps available on Google Play and 2.1 million in the Apple Store.  However, "the average number of apps used is holding steady at 27 apps per month,"   which means securing one of those 27 coveted spots is an uphill battle.
So, what attracts people to different apps? They need it to be fast, useful, and have a multitude of features that give users a reason to continue engaging. Mobile users want apps that provide practical info, beyond primary functions – anywhere, anytime. For SMEs without the global budgets to invest in a dedicated app, I would say focus instead on building a responsive mobile web and look to leverage third-party apps instead.
After all, in an age of consolidation, it's far more critical to understand usage behaviours, and find the most cost effective way to deliver just that.
Take content for example. While many understand that mobile has limited real estate, designing based on what does and doesn't resonate is often still neglected. Given today's mobile-dominant landscape, why not consider designing for the smaller screen size first instead? If you can get the information right on the small screen size and then expand to desktop, rather than the traditional desktop-first approach, you'll likely meet the needs of the majority of your consumer base across all devices.
Pay more attention to mobile!
Most importantly, even if businesses are effectively acquiring customers via mobile, it's time to ditch the 'set and forget' approach. Continually testing, learning and evolving across any technology is vital. You might be surprised to learn that on average, Expedia Group makes an improvement to its tech every 24 minutes.
It might sound like more work, but it doesn't have to be. Let's face it – businesses are under the pump, and the constant innovations in technology that make things easy for consumers can sometimes actually put more of a squeeze on the company's resources. So instead, be savvy. For example, in my role, I see smart hoteliers really utilising our tools for real-time insights on-the-go, rather than building their own.
Ultimately, with ever-changing customer expectations, the trick is to be creative, invest in the assets that bring the best value to your business and leverage the investment of others where you can. While it might sound great in a strategy meeting to drop the latest buzzwords – I'd bet that a bigger profit margin will win every time.
Alex Moxey is the Director Market Management, Expedia Group
Need to raise capital? Want to become a more persuasive presenter? Want to master social media? Is it time to overhaul your website? Unlock the library to get free access to free cheat sheets and business tools. Click here for free business tools.