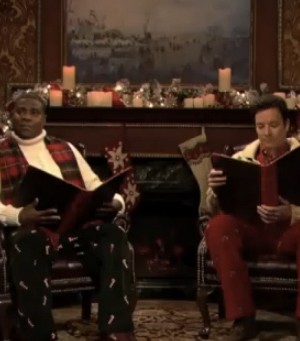 Jimmy Fallon and Tracy Morgan worked together at Saturday Night Live (SNL).
Fallon now has his own late night show. Morgan, plays a (probably) more extreme version of himself at Tracy Jordan in 30 Rock, along side many other SNL alumni.
The straight reading of the classic Christmas tale is done by Fallon on his television show. It's rare for Fallon to play the straight bat. This is the guy who's famous for his impromptu death metal parodies (sadly, the videos of these performances seem to be blocked to Australia).
Morgan, ever the clown, provides us with his version of this classic tale, updated for modern life. He eventually gets Fallon to laugh, and lose his composure, revealing just how much of this video is being ad libbed by Morgan.
And with that, greetings of the season to all Anthillians. Enjoy!
'Twas the night before Christmas read by Jimmy Fallon and Tracy Morgan