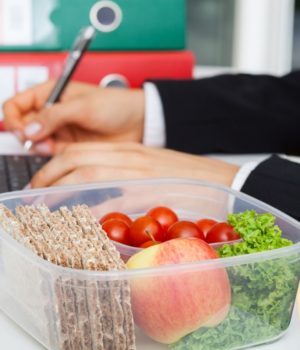 It is becoming common place for companies to offer their employees free lunches, or at the very least, free snacks and drinks.
It's a trend that started popping up at tech giants like Google, Facebook and Twitter.
However stories of the successes of these programs have spread and the idea seems to be taking off.
So, should your business be providing food and snacks for your staff? Here are some great reasons why you should consider it
Workplace culture
By providing lunch for staff, you'll manage to gather everyone in the same place, at the same time. This is a great opportunity to allow staff to get to know each other, on a personal level, in a more casual setting. Creating strong bonds between employees can improve team dynamics, making for an overall happier and more productive team.
Gathering the team together is an opportunity for those illusive chance encounters. Staff from different departments will often go months without interacting with one another. But get everybody in a room together, you just never know when an issue that's been nagging at one team can be solved by the casual input of someone from a completely different department.
Healthy = Happy
Just like a good night's sleep, a healthy diet and lifestyle is crucial to our happiness, particularly when it comes to our enjoyment at work. However, in the busyness of the modern day it's difficult to find the time to maintain a balanced diet. Cooking takes time and packing a lunch in the morning before work, with everything else we have to do is often forgotten about.
When you're busy at work it's all too tempting to just grab a bag of chips from the vending machine or a take a quick drive through the closest drive-through fast food joint. If a healthy, nutritionally balanced meal is provided for you at the office that's one thing you can tick off your list, leaving you healthier, and happier.
Increased productivity
Encouraging staff to actually leave their desks and sit down to a healthy meal will not only break a bad habit but will leave them feeling better, and fueled to power through the afternoon, making them more productive.
Company loyalty
People love it when they feel appreciated at work. It gives them a sense of security and belonging. By giving your staff the added perk of free meals at work you're reinforcing that feeling of appreciation, all the while fostering a stronger team environment.
When an employee feels appreciated, they are more likely to be loyal to a company and will stick around longer. On the flip side, when word gets around about the great company perks you're offering, you will find you have a competitive edge when it comes to recruitment.
To get a program like this up and running you'll first need to decide what works best for your business, as well as what makes sense for your budget. If regular lunches seem like too big an undertaking you might find a balance with other options. Simply providing milk, tea and coffee will at least save your employees a trip to the café every day, and a basket of fresh fruit is a much appreciated and healthy alternative to the vending machine. Or you could consider stepping it up a notch with a small selection of healthy snacks and drinks in the kitchen or lunch room.
Whatever you decide, you can feel confident knowing that it'll show the team you appreciate them, care about their wellbeing, and hopefully you'll earn yourself a reputation as an employer of choice.
Belinda Lyone is the General Manager of COS, Australia's largest privately owned office products supplier, servicing over 20,000 business customers across Australia and offering thousands of products used in today's modern workplace including technology, kitchen and cleaning, furniture, print and promotional items, and office supplies. COS supports organisations of all sizes by making the selection and delivery of office supplies easy, streamlined and cost effective, allowing organisations to remain focused on business critical activities.