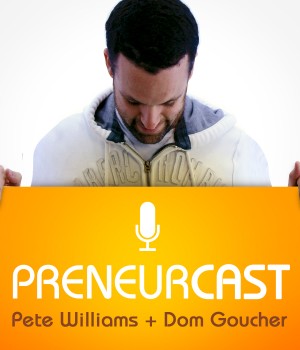 PreneurCast is a marketing + business podcast. Each week, author and marketer Pete Williams and digital media producer Dom Goucher discuss entrepreneurship, business, internet marketing and productivity.
Continuing the Foundations series, in this episode Dom talks about investing in yourself — something that is overlooked by most entrepreneurs who are new to business. It's important to invest in yourself and your team to ensure the growth of your business.
Dom talks about ensuring the growth of your business by investing in your team and yourself
Transcript:
Read it now.Hide it.

Links:
Online:
http://www.ProfitHacks.com – Profit Hacks is our course about Productivity, Business Efficiency, and Hacking your way to Profits
Previous PreneurCast Episodes:
Episode 006 – Pete's Reading List
Episode 010 – Masterminds
Episode 026 – Outsourcing
Episode 039 – How to Read A Book
Episode 070 – Lazy Marketing Redux
Episode 080 – Approaching Mentors
Never Miss an Episode:
Subscribe to the show on
iTunes, Stitcher
or
RSS.
Love the Show?
Please take a minute to show some love via a comment or review on either
iTunes
or
Stitcher.