Please share this message. Tweet it. Facebook 'Like' it. Spread the word. Share the love!
The Global Entrepreneur: Five Easy Ways to Appear Bigger than You Are.
FREE WEBINAR
When: 13 April, 12-noon
Where: At your laptop, Mac or PC!
Cost: Complimentary*

You know the feeling. Yes, the fear is real.
Would they still take you seriously if they knew the real size of your organisation?
You might be a solopreneur or a 15 person upstart. You could be a medium enterprise well-practiced in the skill of looking bigger than you really are.
If this sounds familiar, don't fret. You are not alone!
Learn, be entertained and engaged!
Attend this live, interactive webinar to learn:
How to avoid the three biggest mistakes that scream "amateur!"
Five inexpensive technologies that make you more money than they cost
How to maximise relationships when you're countries apart
What to do immediately to make your story stand out
Plus, Roger Courville and James Tuckerman will be working damn hard to keep you engaged and entertained for this 45-minute learning session. It's the Anthill way, right!
Join Roger Courville (and James Tuckerman)
For Anthill's first foray into the world of webinars (supported by GoToMeeting), we are proud to present five-time entrepreneur Roger Courville.
Roger is author of The Virtual Presenter's Handbook, contributing author to Business Expert Guide to Small Business Success, and an internationally sought-after speaker on virtual communication.
A five-time entrepreneur, Roger has presented to tens of thousands, and he's reached tens of thousands more with guest writing appearances for SpeakingAboutPresenting.com, Training Australia Magazine, PlannerWire, eLearningGuild, and now Anthill.
His fourth company, Corvent, he sold to the largest teleconferencing company in the US. Roger is Principal at 1080 Group, a training and coaching firm.
The session will be moderated by Anthill's own James Tuckerman.
Why choose this topic as Anthill's first webinar?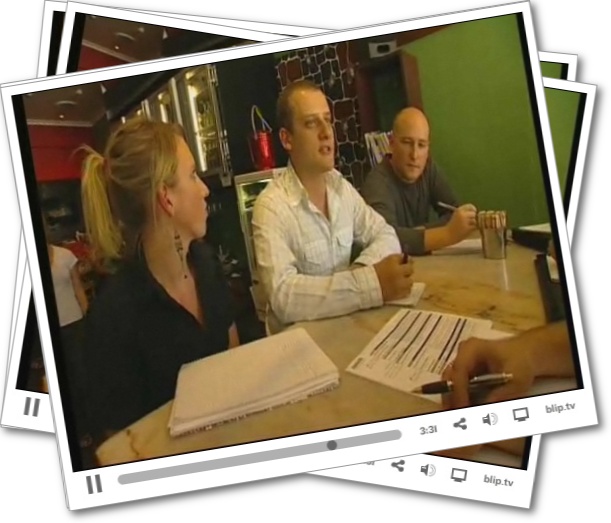 If you aren't familiar with the Anthill Story (the myth, the legend), you're about to be schooled.
Your favourite source of business news, advice and inspiration was also borne from humble beginnings — created by one guy, with a credit card, no prior publishing experience and a whole lot of ambition.
You can watch the video to see Anthill founder James Tuckerman make a goose of himself for ABC TV in 2006, by clicking here.
For many months, this business ran from the spare bedroom of a family abode.
What's a webinar?
Okay, we admit it. Anthill has been a bit late to discover the wonders of the webinar.
If you're a technical Luddite (or just strange and backward), according to Wikipedia:
A webinar is a neologism, short for Web-based Seminar, a presentation, lecture, workshop or seminar that is transmitted over the Web, specifically a portmanteau of web and seminar, to describe a specific type of web conference. A webinar can be collaborative and include polling and question and answer sessions to allow full participation between the audience and the presenter.
If words like 'neologism' and 'portmanteau' get you confused, a webinar is simply a way to login, join a vibrant and instruction online-seminar, pose questions and participate in online learning.
How does is work?
Simply click the register button, follow the prompts and you'll be sent reminders and login details when the time is right. It's so easy, some members of the Anthill crew have even convinced their own mothers (and a grandmother) to take part! Don't put this off. Register now!
When: 13 April, 12-noon
Where: At your laptop, Mac or PC!
Cost: Complimentary*

*By registering, you are agreeing to allow the data collected to be shared with the sponsor of this event, Citrix GoToMeeting. Anthill will not share this data with any parties not involved unless indicated.
Need to raise capital? Want to become a more persuasive presenter? Want to master social media? Is it time to overhaul your website? Unlock the library to get free access to free cheat sheets and business tools. Click here for free business tools.