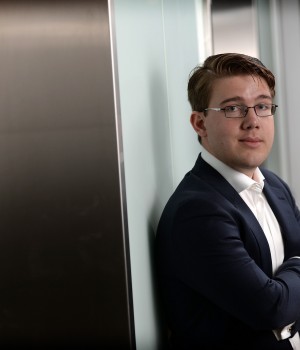 Brisbane-based training software start-up, GO1, recently inked a US$1 million investment deal with Queensland business leader, Steve Baxter and Sydney venture capital fund, Tank Stream Ventures. The company has also hit a major milestone of over 150,000 portal users across six of the globe's continents.
Co-founded by an eclectic group of entrepreneurs – a medical doctor, a computer-scientist engineer, a lawyer and a tech-economist, GO1 allows businesses to train their staff or customers using a customised portal of short, online courses.
What is the story behind GO1?
Andrew Barnes (pictured), Vu Tran and Chris Eigeland went to high school together. They started a web design company and soon Chris Hood joined the team.
Concurrent to running the web agency, Andrew graduated economics and was awarded the Rhodes Scholarship to study education technology at Oxford.
Vu graduated as a medical doctor, Chris E. studied and graduated law while also founding an international not-for-profit (The Schoolbag), and Chris H. had already completed a software engineering degree.
They were inspired to start GO1 after being consumers of bad elearning systems for a number of years while at uni and they had also had many customers request that they build out custom learning and training portals for them as the options in the market didn't fit their specific needs.
The Queensland Government, National Australia Bank and Seek have all recently signed up to GO1, joining a cohort of well-recognised businesses that currently utilise the software.
How GO1 works:
A company signs up and invites their team into their own white-labelled portal.

Through their setup process GO1 help select relevant courses for the business from our growing selection of compliance, management and other useful material. And of course companies can add their own material, too.

For staff they now have a space where training can be easily and quickly completed. Important material can be refreshed. And the notes that they took during their initial on-boarding sessions are stored and available across all devices.
All from just $1 per user per month.
What makes Go1 relevant to its market?
Co-founder of GO1, Andrew Barnes, said creating a culture of positive professional development cannot be overemphasised in the workplace.
"GO1 is transforming both small and large sized companies – from start-ups through to enterprises, organisations and government services. Studies have consistently pointed to the importance of quality training in determining overall staff satisfaction."
He added that it is brilliant to have a tech and business mind like Steve onboard.
Steve Baxter said, "GO1 is a rather brilliant start-up concept with huge, market potential. It also has a strong team of entrepreneurs behind it, with each of the co-founders bringing a unique and advantageous skill-set to the table."
"Companies and businesses can mistakenly fall into the trap of overlooking workplace training because they see it as an inconvenience. Not only are there issues with this mindset legally speaking, but the undesirable impact on staff is also notable."
Managing Partner of Tank Stream Ventures, Rui Rodrigues added, "GO1 is one of those rare untapped business opportunities, solving a huge enterprise problem."
"The fact that GO1 was founded by a strong technical and business team of founders led by Andrew Barnes made it a no brainer for TSV to get involved."
Need to raise capital? Want to become a more persuasive presenter? Want to master social media? Is it time to overhaul your website? Unlock the library to get free access to free cheat sheets and business tools. Click here for free business tools.