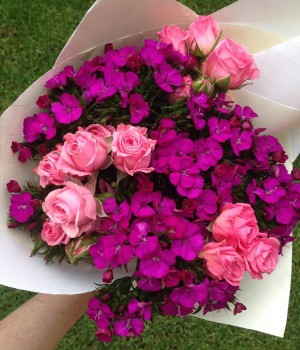 You could say that, all along, Kate Klavins' idea for Floragram was "too beautifully simple to fail."
Klavins, a rising Flinders University Bachelor of Business (Marketing) graduate started Floragram on Facebook in April of 2014 and started taking orders the same day – right out of the gates. The thing is, Kate started the business with nothing more than the idea of curating a daily bouquet of Adelaide's best flowers and delivery them anywhere in the city for a flat-rate.
The best things in life are free (to startup)
So, Kate did what any aspiring young entrepreneur with no money, no inventory, and no website would do. She started a Facebook page and began taking orders.
"I've actually seen this idea elsewhere and wanted to explore the idea in Adelaide! People often want to give flowers as a gesture or gift but it can become expensive, especially once you add the cost of delivery. I believe it's the thought that counts, not the size of the bunch, so my focus is on quality and the element of surprise!" Klavins told Anthill.
"I've had a number of 'just because' orders and I think the affordable price is part of this reason. Customers also don't have to worry about which arrangement to choose – I make up the bunches depending on what flowers are freshest on the day."
Venture Dorm life…
At Flinders, Klavins has been a part of Venture Dorm, a program at Flinders' New Venture Institute.
Asked about her experience in the program, she told us that she's enjoyed the mentoring and collaboration most.
"Each week we research one aspect of our business (e.g. revenue, partners) and present our progress to get feedback from mentors and other participants. It's great to bounce ideas off each other and learn from those who have different experience and advice. My first two orders even came from within the Venture Dorm group so I've found it has been a very supportive environment," she stated.
"We are also individually paired up with a mentor to help develop our ideas. My mentor, Tom Young, completed Venture Dorm last year and now has his own video production business: Flinders Creations. He has really helped me to stay on track and focus on the most important aspects of my start-up."
"I started Venture Dorm thinking the program would help me settle on an idea and figure out the basic details – I didn't know I'd actually get to start selling flowers so quickly! It's also made me realise just how much you can achieve when you're surrounded by people that encourage you to progress each week and just give something a go!"
Let's reiterate that…
Give something a go, Anthillian masses. This story is the stuff entrepreneurial dreams are made of.
Need to raise capital? Want to become a more persuasive presenter? Want to master social media? Is it time to overhaul your website? Unlock the library to get free access to free cheat sheets and business tools. Click here for free business tools.