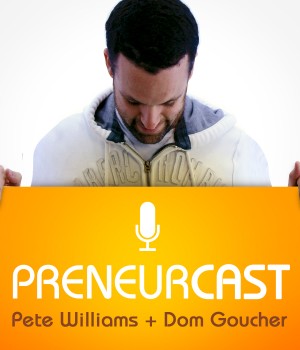 PreneurCast is a marketing podcast. Each week, author and marketer Pete Williams and digital media producer Dom Goucher discuss entrepreneurship, business, internet marketing and productivity.
It's the end of another year, and time for Pete and Dom to run down the things that they were most impressed with this year. All the usual categories are covered: Books, Software, Hardware, Podcasts, Services, Courses, Blogs, plus some special mentions.
Pete and Dom discuss the things that impressed them the most on the year of 2012
Transcript:
Read it now.Hide it.

Links:
Books:
Winner: Trust Me, I'm Lying – Ryan Holiday
Mentions: The 4-Hour Chef – Tim Ferriss
Software/App:
Winner: Evernote – Digital note-taking app
Mentions: MagCast – Digital publishing platform for Apple's Newsstand
Hardware:
Winner: MacBook Air + Elgato Turbo.264 HD – Great portable media production setup Podcast:
Winner: Freakonomics – Fascinating insights into world economics
Mentions: Mixergy
Course:
Winner: Dan Kennedy – Look Over My Shoulder
Mentions: Accelerated Learning Techniques – Brian Tracy
Also: Profit Hacks
Service:
Winner: Xero.com – Online accounting software solution
Mentions: IFTTT – Automatically trigger events based on online happenings
Blog/Site:
Winner: iwillteachyoutoberich.com – Ramit Sethi's site
Mentions: tuckermax.me, thriveforward.com, fraserspeirs.com
Event/Show:
Experts Industry Association Event – San Diego
Never Miss an Episode:
Subscribe to the show on
iTunes, Stitcher
or
RSS.
Love the Show?
Please take a minute to show some love via a comment or review on either
iTunes
or
Stitcher.