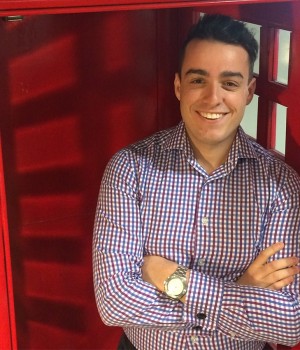 What is the 30under30?
30under30 is an Anthill initiative launched in early 2008 to encourage and promote entrepreneurship among young Australians.
Each year, we invite our readers to nominate young Australian entrepreneurs deserving of recognition for their outstanding entrepreneurial endeavours. More.
Jordan Grives, QLD (b. 1989)
Name: Jordan Grives
Age: 25 (Born: September 1989)
Gender: Male
State: QLD
Known for: Fonebox
Previously, call tracking and reporting for inbound calls was reserved only for the big players. However, they didn't have the customer service to perfectly deliver these services.
Jordan Grives identified this niche opportunity and in 2008, he started Fonebox with two other co-founders with the aim of offering a customised reporting platform that could be tailored to each customer's needs and requirements.
Jordan revealed to Anthill that when he had just started out, it was quite a challenge being taken seriously at the tender age of 18, without any significant clients to show that his company was worth doing business with.
"Given age wasn't something I could change, I had to prove that I was mature enough to be trusted with an important part of people's business, their incoming calls. It took a lot of hard work and relationship building to gain this trust," he shared.
Thankfully, along the way, Lady Luck smiled upon him when a key competitor was purchased. In restructuring their business, huge gaps were left in their customer service.
Jordan seized this unexpected opportunity to swoop in with exceptional customer service. A large number of his competitor's clients made the move over to Fonebox, and he says they have managed to retain all of those clients to date.
He further revealed that as an entrepreneur, he never takes no as an answer.
"Our offering might not be right for a business at the time I'm talking to them but businesses develop and needs change. I always follow up with them. Once they are in the market for our services, we can customise a solution that will blow their mind."
Jordan disclosed that Fonebox currently enjoys 99 per cent client retention, which he attributes to his 30 brilliant team members. He further pointed out that the team consumes an average of 84 cups of coffee a day, a statistic he says tells a lot.
Fonebox, which has been operating for six years, will turn over 7 million this financial year and they plan to crack the 10 million mark in 2015. Jordan further disclosed that there might even be an acquisition around the corner.
However, despite this excellent performance, Jordan says it is not the figures that motivate him as an entrepreneur, remarking, "I'm more focused on building a successful business that can provide continuous opportunity than on the money that I can make from it, I want to create something that will last."
Anthill asks: Jordan Grives, what's your super power?

I can be very persistent. Where others would give up or stop calling, I see that as more of a challenge and take it as a green light to continue.
SHOW YOUR SUPPORT
You can show your support for this outstanding young entrepreneur in one of three ways:
1. Tweet this post:

Use the Tweet button at the top of this page. Your tweet will say: Congratulations Jordan Grives, Anthill 2014 30under30 winner!

2. Trigger a Reaction on Facebook:

Hit the 'Like' button at the top of this page.

3. Leave a Comment:

Show your support! Share the love!
Need to raise capital? Want to become a more persuasive presenter? Want to master social media? Is it time to overhaul your website? Unlock the library to get free access to free cheat sheets and business tools. Click here for free business tools.