It's now prime time for small businesses to be prioritising creating new customer relationships and deepening existing ones through Instagram.
Christmas is a particularly crowded market place for SMBs to achieve cut-through on social media amongst the litany of other brands. And as users continue to adopt a mobile-first approach to online access, brands need to create more compelling content for visual platforms like Instagram to engage consumers and share some festive cheer.
Now topping 400 million users, Instagram really is the perfect platform for small businesses. The photo sharing platform has become a visual way for brands to connect with people and engage personally invested customers who keep coming back for more.
The most successful brands on Instagram share images that tell a story, create an emotional connection and match the aesthetic of the rest of visual experience in the user's feed.
So what should brands keep in mind when launching a social campaign this holiday season on an image-centric platform?
1. Captivating storytelling
The key factor for driving engagement is visual storytelling. Good images and videos will amplify the outcome and fit within the native experience of the platform.
Make sure your brand's feed forms part of a bigger picture. Tell your brand story in a cohesive way, rather than lots of separate images. Follow a theme or style that suits your brand's purpose such as the example below.
2. Branding
Maintain a strong brand consistency across campaigns by establishing connective elements across images and videos – like an identifiable colour palette, structure, or photographic style. This will help with brand recognition.
Content should be authentic and high quality to help build genuine connections and establish brand loyalty. The content needs to evoke strong emotional connections for your followers whilst, subtly including a brand reference such as the example below.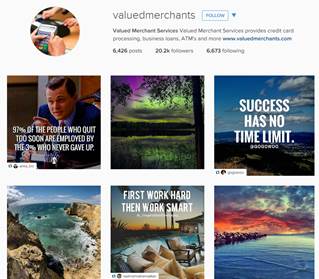 Have business goals
Always have a marketing goal in mind. Are you trying to drive app installs, traffic to your website, push an online sale or simply create brand awareness during the festive season.
Whatever your business objective the creative concepts need to align with the campaign goal in order to measure impact.
Sophie Blachford works in Brand Development for Instagram Australia.