To kick-start 2013, we're creating a new event for business builders.
It's a cooking class.
That's right. We're calling it our Master Business Bake Up series.
At every event, a business leader will teach a business 'recipe' that that he or she will 'cook' on the day, in under 90 minutes. (More below.)
CAN YOU HELP US DESIGN THE LOGO? SIMPLY VOTE.
In the days before Christmas, we launched a design competition via 99designs.
At the time of writing, the brief has attracted 106 entries from 55 designers.
We've shortlisted the options to eight of our favourites. Now, we're calling on you for your input.
Here are some samples below. Click here to vote.
WHAT IS THE MASTER BUSINESS BAKE UP SERIES?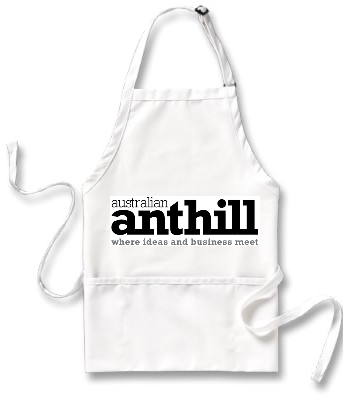 The goal is simple. The format is universal.
Business builders come to watch an industry leader prepare a popular recipe… a busines lesson with a clear structure and outcome. A 'meal' is cooked. The industry leader does not simply describe 'how' a meal is cooked. He or she cooks it.
The industry leader does not hold back or keep secrets. Every shortcut and tip is revealed. The industry leader does not simply share opinions. He or she shows how to get something done.
A clear outcome is achieved… on the day.
FORMAT: 8am arrival (for 8:30am start) — 10am conclusion (30 min networking)
Basic breakfast fare will be provided (caffeine, juice, pastries, that kind of thing)

BRING: Notepad and pen, iPad or Laptop. Prepare to learn and implement.

DRESS: For television (we will be filming this event).
Need to raise capital? Want to become a more persuasive presenter? Want to master social media? Is it time to overhaul your website? Unlock the library to get free access to free cheat sheets and business tools. Click here for free business tools.