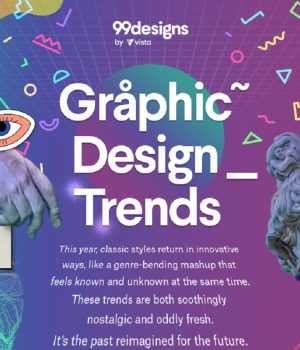 Design tells you a lot about the state of the world—what people are craving, feeling and caring about in light of the challenges or positives they have recently experienced.
Working with small business customers, graphic designers have a front row seat to these changing preferences, watching them evolve with every brief submitted.
That's why, every year at 99designs by Vista, we ask our global community of freelance creators for their predictions on the design trends we should get ready to see everywhere in the year ahead.
These trends can be a guiding light for brands as they look to innovate and give themselves an edge against the competition in a much vibrant market.
When looking at the design trends, it's clear that some of us are seeking comfort, while others are ready for some adventure after the events of the last two years.
So, if you are planning to level up your brand design this year, here are some of the biggest graphic design trends worth exploring in 2022. 
Blasts from the past
It's no surprise that after two chaotic years of living through a pandemic, there's a yearning to retreat to the familiar. While the 80s have been a mainstay in popular culture in recent years, in 2022 the nostalgia we're seeking is from the 90s.
Characterised by Memphis design patterns, vibrant colour blocks reminiscent of the early days, this trend delivers one part old-school-cool and one part childhood home comfort.
Fast forward a bit to the late nineties and early 2000s and the next stop on this trend time machine is Y2K. You may recall back at this time, many of us were concerned the world was going to end when the clock struck midnight on 1 January 2000.
When that didn't happen, there was a sense of technological optimism, which manifested in kitschy designs characterised by low poly CGI, metallics and iridescent colours commonly seen on the back of CDs. This year, expect to see a re-emergence of this style.
It's light, bright and reflects hope for the digital future.
While the 90s nostalgia and Y2K trends are lively and colourful, another trending nod to decades gone by, 'Frasurbane', is quite the opposite.
A union of 90s sitcom Frasier and the world "urbane", this style is attune to Frasier's apartment, which you might recall was neutral and carefully designed, but not boring.
Designs embracing this trend follow suit, with elegant serifs, muted colours and well-placed design elements. When done poorly, it can feel a tad snobby – but when done right, it feels sophisticated yet youthful.
Design a getaway
Some trends are less about looking back and more about exploring what could be. Hand-drawn doodles have always been quite a personal window into a person's psyche.
Creatives are inviting their minds to inform their professional work with daydream doodles. These doodles, now being created with digital tools, feel unique and relatable, making them especially appealing to younger audiences who crave authenticity from brands.
Going beyond daydreaming, some designers are also creating their own fantasy to find greater distance from a recent reality filled with chaos and uncertainty.
This escapism in its purest form is filled with magical landscapes, whimsical creatures and unexpected colours. This style could work well as the backdrop for a website.
All about that typeface
Those who don't believe that typography is an artform in its own right are soon to learn the error of their misjudgements this year.
With expressive and experimental typography lettering that walks the line between abstraction and legibility looks set to dominate design in 2022. This style is all about experimentation with mismatched letters, playful shapes and unexpected colours.
While it can be a bit risky, it's perfect for brands that want to push boundaries and consider an ambiguous font as an asset to their brand personality, rather than a liability.
Creatives are injecting further fun into typefaces with extreme bubble design. As circles and curves tend to convey friendliness and lightness with their lack of sharp corners, this style carries immense positivity, which works perfectly for brands on the more playful side.
What's different about this look compared to past years is its elongated forms and psychedelic colours, enabling inflatable letters to feel cheerful without being childish.
Rage against the design
For several years, there has been a focus on digital usability to ensure websites are simple to understand and navigate. This has led to a certain formula for how interfaces are constructed and in 2022 designers are challenging that convention with anti-design.
This trend is exactly as it sounds: a rebellion against traditional aesthetics and what is considered "good design". Think asymmetry, off putting colour combinations, random placement of images and striking typography.
For brands that are looking to stir things up, this approach could be well worth exploring. 
While anti-design is a voice of rebellion, its cousin 'grunge' is of angst.
An logical reaction to how unpredictable the world has been the last few years, grunge revival is a trend that exudes unleashed energy and relishes in breaking the rules.
Distinguished by its scrappy, zine-like collages, raw imagery and physical elements like torn pages, tape and hand drawn doodles, it feels highly emotional, cool and daring.
While grunge doesn't appeal to all audiences, for brands that want to revel in their edgier side and make a statement, it could be just their ticket.
Innovative patterns and layers
Patterns are an ever present part of design trends, but the essence of those patterns fluctuates with each year. In 2022, parametric patterns will be all the rage.
These patterns are intricate yet minimalistic, consisting of complex geometric structures that give the illusion of movement. Designers are most commonly leaning on this style to express complicated and even futuristic subject matters.
Another style is flat vector design, for which designers layer geometric shapes to create clear, modern images. This year, this artwork is being reinvigorated by Ukiyo-e flat design, a style inspired by Japanese woodblock printing and painting from the 17th century.
Featuring bold linework, vivid colours and asymmetrical imagery, this trend is incredibly versatile and gives flat vector artwork, which can feel quite businesslike, a fresh look.
While the layers of Ukiyo-e flat design achieve a level of structured detail, the trend of intricate maximalism celebrates layers in a more chaotic manner.
Here designers take intricate elements and pile them together to create powerful compositions that draw your attention to both the individual pieces and the artwork.
While this approach can be overwhelming, when done right, it's absolutely captivating.
The beauty of these trends is that there is something that works for all types of brands and industries – and can be applied in whatever dose you're comfortable with.
Whether you want to add a flair of anti-design to your homepage or fully indulge in some 90s nostalgia for your latest marketing campaign, it's refreshing to try something new.
After the last two years, it's safe to say your audience is ready to mix things up.
Shayne Tilley is Head of Marketing at 99designs by Vista, the global creative platform that makes it easy for designers and clients to work together to create designs they love.