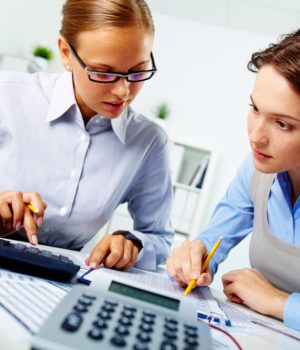 Accounting is not what it used to be.
The industry is but one of many across the world whose professionals must innovate, adapt and evolve to stay afloat in a world saturated with new and ever-evolving technology.
But what exactly does this mean for the accountants of today and, particularly, for the aspiring accountants of tomorrow?
It means that an all-encompassing understanding of digital disruption is vital.
It means that today's accountants must not only know how technology changes the ways in which people (and specifically their clients) operate and manage their businesses, but they must readily welcome it, harness it, and advocate its varied and specialised capabilities. They must be prepared to keep up with its constant evolution.
It means that what must emerge to meet the demands of an increasingly tech-infused world is the 'Techountant': the savvy business advisor equipped with a powerful hybrid of technology and accounting expertise.
Gaining a thorough understanding of big data, the Internet of Things (IoT), and today's cloud software capabilities is where we should start to achieve this goal.
Big data and the accounting industry
Big data is causing a big shift to the business landscape as we know it, and accountants and those training in the accounting sector will need to understand what it is and how it's used across the accounting industry as well as all other industries.
Through the collection of information, big data enables organisations to better understand their business and customers, to go beyond what was previously possible to find solutions to business problems.
To make use of large and complex data sets to identify patterns and trends, however, requires strong data analytics skills – not something that has generally made an appearance on the traditional accountant's resume.
Because big data is different from traditional data, it can't be analysed with data processing tools like spreadsheets. It is unstructured data that comes in high volumes from a variety of sources, from social media accounts to mobile phone activity.
According to IBM, 294 billion emails are sent every day, over 1 billion Google searches are made every day, and some 10 billion mobile devices will be in use by 2020. It's not hard to imagine the sheer volume of data that's out there.
Once again, though, it is how businesses bring in that data, and manage and analyse it that matters. This opens the opportunity for accountants to move beyond traditional transactional work and into providing their clients with informed insights to help them make better business decisions.
Accountants will need to know what their clients' businesses need to do to stay competitive and thrive. This is driving their role towards that of advisor, strategist and consultant.
The Internet of Things (IoT)
The Internet of Things is changing the way we all live, work, communicate and engage – and connectivity is the name of the game. Though of course remarkable, the Internet of Things is quite simply the notion that all things and devices are connected.
What this has to do with accountants is again through that understanding they must have of how IoT is radically changing the ways businesses manage their operations. That includes understanding IoT's place in the accounting industry as well, and how it enables you as an accountant to connect with your clients in ways unlike ever before.
With the Internet of Things, businesses can manage their activities, stock levels, invoices and reporting in real time. Audits will no longer be independent events as IoT enables the process of continuous auditing in real time. The ability to connect to an ATO portal means that reporting is automatic, seamless and hassle free.
Gone will be the days of the shoebox client.
Online cloud solutions and applications have already started to become the norm. These days, businesses can choose from a variety of online software solutions to manage their financials as well as add-on applications for electronic invoicing, time recording, inventory, ecommerce, customer relationship management and much more. Online accounting software Xero, for example, can already integrate with over 700 third-party applications, and that figure will only increase as new technology becomes available.
Your value as an accountant can only increase when you can become the go-to expert on whichever online solutions your clients have chosen to adopt in their businesses. You will then not only be in the position to provide business advice based on the insights available from such applications, but also in the position to advise on any other applications which could further be of benefit to your client.
And when you can help your clients operate their businesses much more smoothly and with much less hassle, you can guarantee they'll stick with you for life.
On-the-go accounting
As more and more businesses become online and national or global operations, their people will want instant access to their accounts – from anywhere and at any time. This means most, if not all, accounting systems will be cloud based.
Again, accountants need to ensure that they are familiar with key cloud-based systems: how they operate and the different types of functionality they offer.
So how can accountants obtain and sharpen the skills necessary to provide such specialised services and stay competitive in today's market?
Student and trainees should seek technology-based accounting education to further the fundamental skills. Accountants should look to accounting software providers like Xero, QuickBooks and MYOB to obtain guidance and training where necessary. They should look to the wealth of resources available online, they should look to attend industry events and conferences, they should look to host technology experts for in-house training, and they should look to continue doing so for as long as they're in business.
As the accounting sector undergoes significant change, it is your responsibility as an accountant to adapt, to sharpen your skills in data analytics and technology, and to position yourself as a trusted business partner who can help your clients' businesses grow.
Coco Hou, is the Managing Director of Platinum Professional Training. Platinum is one of Australia's largest accounting training and internship providers with offices across all major Australian cities.  Coco Hou is also a CPA qualified accountant and Managing Director of Platinum Accounting.
Need to raise capital? Want to become a more persuasive presenter? Want to master social media? Is it time to overhaul your website? Unlock the library to get free access to free cheat sheets and business tools. Click here for free business tools.