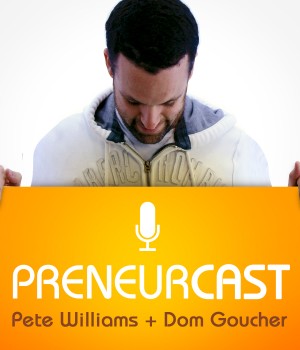 PreneurCast is a marketing + business podcast. Each week, author and marketer Pete Williams and digital media producer Dom Goucher discuss entrepreneurship, business, internet marketing and productivity.
Pete talks to his friend Dave Jenyns about how they met and how they both had the idea to sell the MCG at the same time. They also discuss the importance of taking action on your ideas (before someone else does).
Pete talks to Dave about taking entrepreneurial actions to build your business
Transcript:
Read it now.Hide it.
Links:
Online:
http://www.superawesomemicroproject.com – The Lego Car Project Dave mentioned
http://conversionxl.com – Top tips on conversions
http://www.nutshell.com – Customer/Sales Lead Management Tool
Preneur Marketing Articles:
http://preneurmarketing.com/essays/10-guarantee-templates-can-swipe-instantly-increase-conversions/
http://preneurmarketing.com/essays/look-really-matters-conversions-happy-customers/
Books:
Hooked – Nir Eyal
Audible: http://preneurmarketing.com/hookedaudio
Amazon: http://preneurmarketing.com/hookedbook
Never Miss an Episode:
Subscribe to the show on
iTunes, Stitcher
or
RSS.
Love the Show?
Please take a minute to show some love via a comment or review on either
iTunes
or
Stitcher.