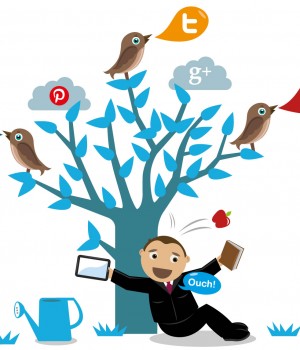 The number of businesses with a social media presence has leapt this year in every category, up from 31 per cent to 48 per cent for small and medium businesses (SMBs) and from 56 per cent to 79 per cent for large businesses, according to the 2016 Social Media Report.
The study, from digital expert Sensis, surveyed 800 Australian consumers and 1,100 Australian businesses and found the gap was narrowing between businesses with a Facebook presence (89 per cent of small, 79 per cent of medium and 89 per cent of large businesses) and consumers on social media on the platform (95 per cent).
What does this mean for businesses?
Sensis General Manager Digital, Alice Mentiplay said it showed businesses were maturing in their adoption of social media strategies, however SMBs still had some way to go as only around a third had a plan (31per cent of small and 36 per cent of medium), compared to 76 per cent of large businesses.
"We know through our research that consumers are spending more time on social media, with 57 per cent of people accessing social media every day or most days, and 26 per cent of people checking social media up to five times per day," she said.
"Capturing their attention, whether it be through advertising, organic posts, discounts or give-aways are all valid, however, it is important businesses have a strategy first and understand the return on investment they are seeking.
"Knowing your audience is critical – the report found 18-29 year olds are most likely to use visual platforms such as Facebook, Instagram and Snapchat, while 40-49 year olds primarily use Facebook, LinkedIn and Instagram."
Mrs Mentiplay further explained, "The obvious opportunity is for SMBs to increase their presence on social media in order to reach their audience and increase sales, however they have to be smart about it and ensure the content is relevant, up to date and targeted."
What exactly did this study find?
Key findings from the 2016 Sensis Social Media report include the fact that consumers are more likely to trust a brand if it interacts in a positive way on social media (52 per cent), they find the content posted engaging and relevant (52 per cent) and content is regularly updated (51 per cent).
While Facebook dominates as the most likely location for businesses to advertise – with eight out of 10 SMBs and nine out of 10 large businesses choosing to spend their advertising dollars there – the report found LinkedIn, Twitter and Instagram are all gaining traction as channels for advertising.
The proportion of businesses that believe social media investment will contribute to an increase in sales has grown in all categories: 61 per cent to 62 per cent for small, 54 per cent to 59 per cent for medium and 58 per cent to 68 per cent for large businesses.
The number of businesses that measure ROI remains low among SMBs (21 per cent for small and 27 per cent for medium businesses) but has more than doubled for large businesses this year (from 29 per cent to 61 per cent).
Managing social media internally is more common than outsourcing – 89 per cent of small and large, and 79 per cent of medium businesses.
"Developing a social media strategy is one thing, having someone to execute it who knows your brand is another, and this year we are seeing more businesses bring that function in-house," intimated Mrs Mentiplay.
"Utilising tools to assist with scheduling your posts is important, especially when you consider the most popular times of day to access social media are in the evening and early in the morning – well outside the 9 to 5 work day."