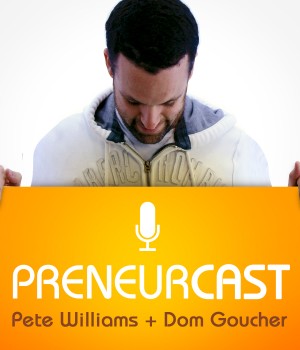 PreneurCast is a marketing + business podcast. Each week, author and marketer Pete Williams and digital media producer Dom Goucher discuss entrepreneurship, business, internet marketing and productivity.
This week, Pete and Dom talk about "stick" – ways to make sure your clients stick with you, and potentially buy from you again. They discuss things you can do both before and after the sale to ensure your customers are happy with you and your products.
Pete and Dom talk about making sure your clients use your services multiple times
Transcript:
Read it now.Hide it.
Links:
Online:
http://www.7levers.com – The 7 Levers of Business Home Study Course is now live. Sign up today and get 2 months free access to our Preneur Platinum private members area.

PreneurCast Episodes:
These previous episodes are talked about in today's show. If you missed them, go back and listen to them:
PreneurCast Episode 37 – The Preneur Hierarchy
Never Miss an Episode:
Subscribe to the show on
iTunes, Stitcher
or
RSS.
Love the Show?
Please take a minute to show some love via a comment or review on either
iTunes
or
Stitcher.