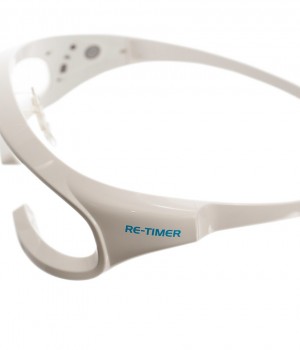 Like this innovation? Show your support by tweeting it, 'liking' it on Facebook, or leaving a comment below.
1. THE BEGINNING
This innovation came to life when…
Two researchers from the Flinders University of South Australia discovered specific wavelengths of light could be used to mimic the effects of natural sunlight. From this discovery, they experimented with various applications that this light could be used for and thus the Re-Timer was born. The basics of the Re-Timer is that it uses a specific wavelength of light to adjust a person's body clock.
2. WHAT & HOW
The purpose of this innovation is to…
Help people who suffer from various problems caused by a lack of natural sunlight. This can help them to reduce the effects of sleeplessness, winter blues, mistimed body clock due to shift work, and jet lag.
It does this by…
Mimicking natural sunlight so that the body thinks it is still daylight while wearing the Re-Timer.
3. PURPOSE & BENEFITS
This innovation improves on what came before because…
The Re-Timer is a much more functional product than others that came before it. It is more portable, more adjustable, and is backed up by over 25 years of university research. It is also non-intrusive meaning you can continue your daily activities while using the device.
The benefits to the customer/end-user include…
Allowing the customer to get a good night's sleep and improve their mood. Some customers have spent years suffering from a mistimed body clock and the Re-Timer has been helped them to re-time this.
4. COMPETITIVE LANDSCAPE
In the past, this problem was solved by…
Using bulky light boxes that were both large and heavy. They were not portable and consumed a lot of energy in the process. The Re-Timer has essentially taken the research behind light boxes and improved it so that it is more portable and functional that similar products in the past.
Its predecessors/competitors include…
Various light boxes and light therapy devices.
5. TARGET MARKET
This innovation is made for…
People who have a mistimed body clock. This can include but is not limited to, shift workers, people with the winter blues, people with sleeplessness, and frequent flyers who suffer from jet lag. For colder climates, the Re-Timer will be more suited to combat the winter blues and sleeplessness. Frequent flyers will find it more useful for combating jet lag while everybody can benefit from reduced effects of working shift work.
6. DISTRIBUTION STRATEGY
It is available for sale through…
The company website which is re-timer.com.
Our marketing strategy is to…
Educate consumers on the benefits of fixing a mistimed body clock. By educating consumers, they can help us to spread the word of how products such as the Re-Timer can help to improve their lives.
Your Turn — VOTE!
If this SMART 100 innovation wowed you, why not get the word out?
Tweet it: Top left of each page
Trigger a Reaction: Facebook 'Like', etc.
Leave a Comment: Anonymous comments excluded.
We'll use your vote to create the 2013 SMART 100 Readers' Choice Index. Learn more here!
FINE PRINT
This SMART 100 profile and the information it contains is a duplication of content submitted by the applicant during the entry process. As a function of entry, applicants were required to declare that all details are factually correct, do not infringe on another's intellectual property and are not unlawful, threatening, defamatory, invasive of privacy, obscene, or otherwise objectionable. Some profiles have been edited for reasons of space and clarity.