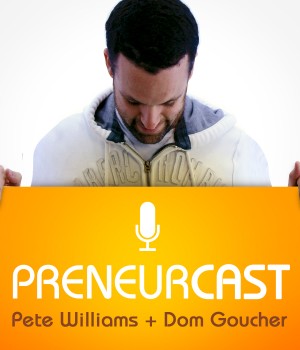 PreneurCast is a business podcast. Each week, author and marketer Pete Williams and digital media producer Dom Goucher discuss entrepreneurship, business, internet marketing and productivity.
Pete's back, and he continues the If I Was… series by talking to Dom about how the 7 Levers of Business can be applied to tradespeople and the service industry. As always, this episode isn't just for people in those businesses, there's tips for everyone.
Pete is talking to Dom about how the 7 Levers of Business can help the service industry
Transcript:
Read it now.Hide it.

Links:
Online:
www.websavvy.com.au – The site of Mike Rhodes, Google AdWords specialist
www.sendoutcards.com/7daytrial – Send Out Cards
Books:
Spin Selling – Neil Rackham
Influence – Robert Cialdini
Previous PreneurCast Episodes:
Episode 052 – 7 Levers of Business Redux
Episode 019 – Dead Bodies, Wedding Cakes and The Mirror Economy
Never Miss an Episode:
Subscribe to the show on
iTunes, Stitcher
or
RSS.
Love the Show?
Please take a minute to show some love via a comment or review on either
iTunes
or
Stitcher.