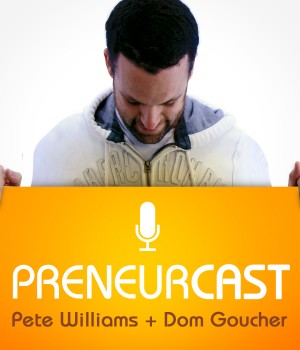 PreneurCast is a marketing podcast. Author and marketer Pete Williams and digital media producer Dom Goucher discuss entrepreneurship, business, internet marketing and productivity.
In this Special Edition, Pete Williams talks to Dom Goucher about the books that had an influence on him, and yet again they run over time. A lot. Not a mention of the book Pete's working on, either.
Subscribe on iTunes:
Pete talks to Dom about books that influences him
Read the Transcript: Read NowHide It

Show Notes + Links:
Books Mentioned:
Personal Development
How To Win Friends and Influence People – Dale Carnegie
The Creative Habit – Twyla Tharp
Bird by Bird – Annie Lamott
Do the Work – Steven Pressfield
The War of Art – Steven Pressfield
How To Be That Guy – Scott Ginsberg
Productivity
Getting Things Done – David Allen
Eat That Frog! – Brian Tracey
The Pomodoro Technique – Francesco Cirillo
The 80/20 Principle – Richard Koch
Optimal Performance
What I Talk About When I Talk About Running – Haruki Murakami
Born to Run – Christopher McDougall
Business/Marketing
Influence – Robert Cialdini
Yes! – Noah J. Goldstein, Steve J. Martin and Robert B. Cialdini
Triggers – Joe Sugarman
Rules For Revolutionaries – Guy Kawasaki
The Art of the Start – Guy Kawasaki
Tribes – Seth Godin
The Guerrilla Marketing Handbook – Jay Conrad Levinson President and Seth Godin
Money Secrets of the Rich – John Burley
Dare to Fail – Billy Lim
The One Minute Millionaire – Mark Victor Hanson
The Magic of Thinking Big – David Schwartz
The Wolf of Wall Street – Jordan Belfort
The 22 Immutable Laws of Marketing – Al Ries and Jack Trout
The 22 Immutable Laws of Branding – Al Ries and Laura Ries
Rich Dad, Poor Dad – Robert T. Kiyosaki
Getting Everything You Can Out of All You've Got – Jay Abraham
General
Oh, the Places You'll Go – Dr. Seuss
The Game – Neil Strauss
Born Standing Up – Steve Martin
I Hope They Serve Beer in Hell – Tucker Max
If you like what we're doing, please leave us a review on
or a comment below.