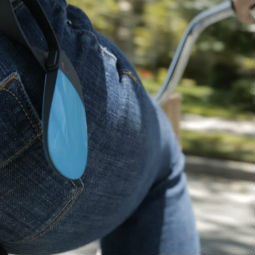 Imagine being able to turn every tv screen into a wireless monitor on a whim. And, all you need to do this is have a nifty little device that's all smooth and curvy.
That's the promise of PLAIR.
This device enables you to beam video from your mobile device to which ever TV it is attached to. In fact, you can stream multiple videos to multiple TVs, at the same time.
PLAIR is also platform agnostic. So, it works with iDevices, Android and everything else. The company has raised over $2 million to develop and take the product to market. It's rumoured to retail for less than $100, which puts it competing with Apple TV.
This promotional video explains the PLAIR pitch. Plus, it's also got lots of shots of a PLAIR clipped to the jeans of an attractive girl, while she rides a bike.
PLAIR – Beaming video to the big screen
Plair Promotional Video 01 from Saad on Vimeo.
Need to raise capital? Want to become a more persuasive presenter? Want to master social media? Is it time to overhaul your website? Unlock the library to get free access to free cheat sheets and business tools. Click here for free business tools.