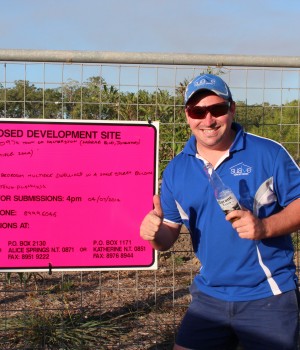 What is the 30under30?
30under30 is an Anthill initiative launched in early 2008 to encourage and promote entrepreneurship among young Australians.
Each year, we invite our readers to nominate young Australian entrepreneurs deserving of recognition for their outstanding entrepreneurial endeavours. More.
Phillip Hoare, NT (b. 1988)
Name: Phillip Hoare
Age: 25 (born November 1988)
Gender: Male
State: NT
Known for: Suave Homes
Suave Homes Founder, Phillip Hoare returns as an Anthill 30under30 winner for the second year in a row. Only this time, his company has increased revenue turnover to $4.2 million, exceding even his own expectations for his company.
And Phillip loves every part of the process.
"Building homes is an exciting and rewarding profession. It's great to be able to go from a patch of dirt to a finished product and inspect every square inch of the project," Phillip recently told Anthill.
Phillip started the company out of his own pocket in 2009. Since then, it's all been uphill. Along the way, Phillip has adopted a policy of not letting obstacles get in the way.
"I don't have setbacks, only learning curves," Phillip told us.
"Everything is a challenge and when shit does hit the fan it takes a true entrepreneur to tackle the matter at hand, overcome it and learn how not to do it again!"
Phillip says that even as he is presently enjoying the company's success, he has plans to give something back to his community going forward.
"We want to put more and more back into the community. We are donating time and money to some local community groups and organisations(generally in regard to building or renovating) to help them do what they do best," he added.
Phillip's growing business and eye on community improvement have earned him a spot on Anthill's 2014 30under30.
Anthill asks: Phillip Hoare, what's your super power?

I think honesty, integrity and humility in the face of rapid growth and expansion. Looking after our staff, suppliers, contractors and ensuring that the wealth is shared and that we all have fun along the way. It wouldn't be a success if it wasn't for the team I have built around me.
SHOW YOUR SUPPORT
You can show your support for this outstanding young entrepreneur in one of three ways:
1. Tweet this post:

Use the Tweet button at the top of this page. Your tweet will
say: Congratulations Phillip Hoare, Anthill 2014 30under30 winner!

2. Trigger a Reaction on Facebook:

Hit the 'Like' button at the top of this page.

3. Leave a Comment:

Show your support! Share the love!
To check out the full list of Anthill's 30under30 winners, click here.