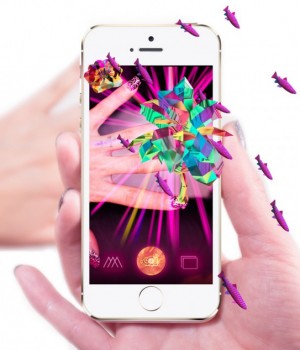 It's an investment, you might say, of cosmic proportions.
Melbourne Angels, an Australian investment group specialising in high value-add investment across the country, has spearheaded a syndicated investment of more than $750,000 in Metaverse Makeovers.
Metaverse Makeovers designs new wearables for emerging markets and the digital generation. Melbourne Angels is joined in the syndicated investment by private investors from China and QUT Creative Enterprise Australia.The venture also received a Grant from Commercialisation Australia in the amount of $262,538.
Metaverse Makeovers Co-Founder and Chief Executive Officer, Thea Baumann has helped guide companies towards integrated augmented reality and wearable technologies.
Recently Baumann stated, "With Melbourne Angels, Creative Enterprises Fund and Commercialisation Australia's investment, coupled with their cumulative expertise across the creative industries, manufacturing and the commercialisation of tech in Asia, Metaverse Makeovers will receive invaluable guidance in navigating the unique challenges of bringing our wearables to a rapidly growing emerging market."
The China Connection
"The wearable tech and augmented reality space is hotting up. The time is right for Metaverse Makeovers, as an interdisciplinary team, to shape the face of this emerging sector and directly position our augmented reality wearables into and onto the hands of a mobile-only generation," continued Baumann.
"Metaverse Nails are a new wearable technology product which we call 'appcessories' as fashion nail accessories that interact with our mobile app. When users scan Metaverse Makeovers fashion nails with our mobile app, interactive 3D holograms appear. The virtual designs can also be shared through social networks."
This venture is a blend of Australian creativity, ingenuity and initiative supported through collaborative investment from leading Australian Angel Investors and, presently, the only early-stage investment fund for the creative industries in the country.
"Melbourne Angels lead high value-add collaborative investments and Metaverse is exactly the sort of opportunity that Angel investors seek. This has been validated through the commitment of CEA to co-invest," said Maurice Grasso, the Melbourne Angels Deal Lead.
"The Metaverse Makeovers co-founders come with a combination of deep domain knowledge, superior technical expertise, demonstrated experience and international recognition at the highest levels of industry," said Grasso.
"They presented a well-researched opportunity with a very tightly defined target market of early-adopters in China which is more than twice the total population of Australia. The full market potential across Asia is hundreds of millions of consumers."
"The team have established industry contacts and supplier relationships in China. Melbourne Angels have been able to deliver introductions to Board candidates and key partners in Australia, Hong Kong and China, as well as provide ongoing expert advice from our members who have decades of experience doing business in China."
Anna Rooke, CEO of the Creative Enterprise Fund said, "Metaverse Makeovers is a great exemplar of the opportunities we want to back and accelerate. A compelling blend of creative innovation and technology-based delivery that makes possible social and commercial outcomes not previously imagined."
Metaverse Nails Video:
[videoframe]
How to Wear Metaverse Nails (Chinese version) from metaverse-makeovers on Vimeo.[/videoframe]