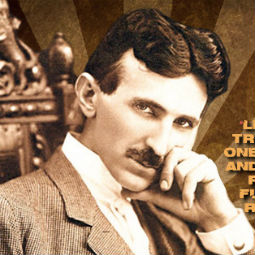 Nikola Telsa was quite possible the most incredible entrepreneur of our time. Yet, what he achieved, including the 700 patents that are held in his name, are still largely unknown.
The Oatmeal has raised $1.2 million to date, to purchase Tesla's old laboratory with the intention of building a museum to the great man.
Now, a self-funded writer/producer is raising money on Kickstarter to produce a movie about Tesla. The intention is to correct history, and give Tesla the recognition he deserves.
There are only four days to go, but the target may not be reached. For an investment of $25 you'll not only help fund the film but you'll get an assortment of merchandise that reads "I helped correct history."
To quote the man himself: "The future will show whether my foresight is as accurate now as it has proved heretofore."
Electricity – the life story of Nikola Tesla: Kickstarter project