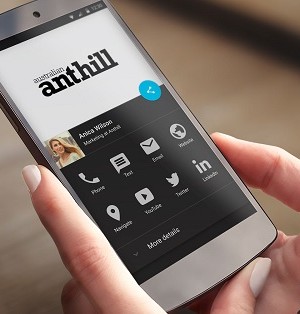 Follow[the]Seed recently announced its investment in Haystack – an Aussie-Israeli team who disrupted the traditional business cards industry and created a smart and stylish digital business card with a seamless experience that is replacing the use of paper cards. Follow[the]Seed investment brings Haystack's total seed round to $1.7m.
With more and more businesses trying to eliminate or greatly reduce the use of paper and move into a paperless office work environment, Haystack's premium solution timing couldn't have been better, says Mr. Andrey Shirben, Follow[the]Seed AU based founding partner.
"Haystack provides a real digital and smart alternative for printing and collecting business cards. Their solution is not only eco-friendly and cost-effective, it is also very easy to adopt, which makes it a habit forming product," he reamarked.
"We tested it with our RavingFans® algorithm and saw how sticky and viral it is, giving clear evidence that it's a game changer in the way people consume business cards today and making it really hard to go back to paper cards after trying out Haystack's solution".
What is the story behind Haystack?
Haystack was founded in 2014 by a team of three brothers (Matan, Nir & Ran Heimann) and a friend (Brian Gillespie) with a vision to make paper business card a thing of the past and remove all existing barriers for digital card sharing, storing and usage. With both a technical and business oriented teams based across Israel and Australia, they launched the Haystack platform a short year after. Being global from day one, there are already more than 2 million Haystack cards created on the system from 80 countries, with 100,000 new cards being created each month.
In October 2016 Haystack quitely introduced its Enterprise plan which offers a set of features and tools tailored to large enterprise clients. The premium features include the ability to deploy beautifully branded digital business cards across large teams, link with corporate CRMs, and deploy smart e-mail signatures among other capabilities. Only a few months later, and with large global 500 companies including Verizon and, L'Oreal already on board, Haystack is seeing its monthly revenues grow from zero to tens of thousands in a rapid pace.
"It's been a while since I've seen such traction and growth rate with a B2B product," says Mr. Ajoy Mallik, Follow[the]Seed US based co-Founder and its corporate expert, "Haystack is constantly winning large accounts over other alternatives in the market. This, combined with their viral coefficient can account for their massive growth and I have the feeling it's just the beginning".
The $500K investment will go towards supporting Haystack's growth plans for their premium product and for further improvement of its core system.