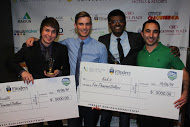 Recently, six up and coming South Australian entrepreneurs had a turn at delivering the pitch of a lifetime.
The eNVIes, a showcase from Flinder's New Venture Institute, served up more than $34,500 in prizes on 19 June. Held at the Crowne Plaza in Adelaide, the event shows off some of the best ideas from the New Venture Institute each year. NVI helps new South Australian entreprenuers learn how to create and realise their own ideas. The entrepreneurs, who have all taken part in the 10-week Venture Dorm course, made pitches to a panel of Adelaide business leaders.
This year's finalists included:
Gold eNVIe Winner: Revuudle the last user-review service you will ever need, from Luke Larsen
Silver eNVIe Winner: Kick it – An App to help smokers track their habit then kick it when they are read, from James Stewart
People Choice Winner: Floragram – the market's best flowers of the day, delivered, by Kate Klavins
DOINQ – a mobile app for last-minute/spontaneous dinner outings with deals from restaurants which allows restaurants to get customers when they have sudden unplanned quiet periods or bookings cancellations.
Trbo – the fastest way to write code for the web
Casefunder – tackles the global justice affordability crisis by enabling people and organisations to crowdfund the cost of their legal fees.
Scanswap – a cloud-based exchange platform for medical imaging.
Final judgement
The awards were judged by a panel of South Australian business experts. Among them was Vinomofo co-founder, Andre Eikmeier.
"I was actually impressed with the quality of the pitches, given how early stage this program is. Four or five real standouts for me, and I shall be following their progress keenly. One in particular I'd love to work more closely with, and would be prepared to invest in, with a bit more investigation," said Eikmeier.
"The pitches themselves were polished, and most punched through even for the people or ideas I wasn't as keen on. They have honed in on the problem/solution succinctly, which sets a business off on the right path. I'm also impressed with Matt Salier, who is taking a very inclusive "feeder" approach with NVI, and I've got some confidence it will be a valuable contributor to this growing Adelaide startup ecosystem," he continued.
Adelaide Football Club's Darrin Johnson added, "This program is helping turn students dreams into business realities. The quality of the ideas and business proposals presented by the students was outstanding. I would not be surprised if several go on to become highly successful South Australian businesses operating both here and overseas. South Australia needs young entrepreneurs in fact I think the first thing young graduates should do after their studies is look to how they can turn their passion into a business before they head down the working for others path."
Co-judge Sarah Sullivan, of the Commonwealth Bank, said, "The enthusiasm and energy displayed by South Australia's new entrepreneurs reflects the commitment by Flinders University to not merely produce expert employees for existing businesses, but to educate and support future employers and investors. I'm excited to follow the progress of all the participants, and look forward to using new products and services that will now be available in the community, thanks to Venture Dorm."
Need to raise capital? Want to become a more persuasive presenter? Want to master social media? Is it time to overhaul your website? Unlock the library to get free access to free cheat sheets and business tools. Click here for free business tools.