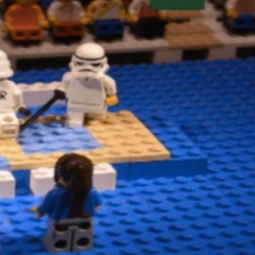 If Channel Nine had any clue it would have take a direct feed from The Guardian newspaper, and broadcast its entire Olympics coverage in a stop-motion Lego format.
It's not a big stretch. Karl Stefanovic actually has Lego minifig hair without even trying. Plus, anything that gives him less screen time is alright by me.
Stop-motion Lego coverage would probably have outraged fewer viewers than, say, the coverage of the men's 470 sailing gold medal win. Perhaps I would have even watched some of it.
To its credit, The Guardian built a replica of the Olympic Stadium and staged the highlight events for the entertainment of its readers. For this, it should receive a gold medal for media coverage.
Called Brick by Brick, this highly memorable campaign became a social media success for the traditional media company. The newspaper should get an extra medal for having a campaign name that lends itself to New Kids On The Block references.
In hindsight, perhaps they already did award The Guardian these medals. It would explain how the UK medal tally got to be so high.
Based on this footage, I'm starting to wish I watched much more of the fencing. May the Force be with you, Anthillians.
Brick by brick – The best of the Olympics
Need to raise capital? Want to become a more persuasive presenter? Want to master social media? Is it time to overhaul your website? Unlock the library to get free access to free cheat sheets and business tools. Click here for free business tools.