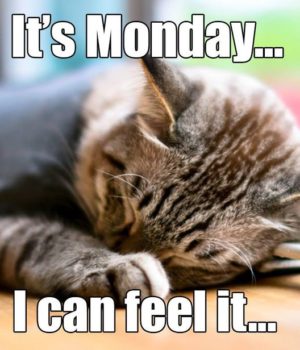 Mondayitis. The Monday Blues. Manic Monday. Call it what you like, but that feeling of dread that sets in on a Sunday night is not a figment of your imagination. Mondayitis is very real, and while a mild case can result in a struggle to get out the door on time, extreme cases can result in not being able to get out of bed at all.
If Mondayitis hits you on a regular basis, or on other days of the week, it can have a significant impact on your state of mind, as well as your productivity.
There is quite a lot you can do to prevent this feeling from ruining your week.
Monday Prep on Friday
Before leaving the office on Friday afternoon take the time to tidy your desk.  Making a plan for Monday, and the rest of the week, as well as a 'to do' list can mean you come into work with a plan. Having appointments organised can help keep your head clear and having a daily plan can help keep you on track.
Seize Saturday
Doing your shopping, cleaning and other errands on a Saturday means that you can dedicate Sunday to looking after yourself.  If you are going to have a big night out, make it Saturday night so you can spend Sunday getting a full day of rest and relaxation.
Embrace Sunday
Consider this your pamper day, but not your day to sleep all day. If you are going to sleep in, don't stay in bed for too long. Maintaining regular sleep patterns over the weekend can go a long way to fight the effects of Mondayitis.
Avoid housework on a Sunday. If you've done the shopping on Saturday, cooking and freezing batches of food for your weekday lunches can be a great activity and can help with the Monday morning stress
When that feeling of dread starts to creep in on a Sunday afternoon, take control by thinking about what you've accomplished that weekend, even if it was just catching up on your TV show. Start planning your next weekend to get you excited about getting through the week. You can even organise a Monday lunch date with a friend, or something fun for Monday evening.
Monday is for music
Music is a great motivator.  Find a song that energises you and play it the moment you open your eyes, and there's a good chance you'll be out of bed before you know it. Having a playlist which can motivate you to make it through the day can help. When you're hitting that time of day when your energy levels have depleted, listening to music can bring back that energy you need. It can even help you during those dreaded peak hour traffic jams, or on crowded trains and buses.
Mondayitis is fairly normal, but if it begins to increases in intensity, or becomes Tuesday, Wednesday, Thursday, or even Fridayitis, ask yourself, "Am I unhappy in my job? Is it time to look for a new job?"  If the answer is yes, you might want to find something you will feel excited to show up to on the worst of days.
Belinda Lyone is the General Manager at COS, Australia's largest privately owned office products supplier, servicing over 20,000 business customers across Australia and offering thousands of products used in today's modern workplace including technology, kitchen and cleaning, furniture, print and promotional items, and office supplies. COS supports organisations of all sizes by making the selection and delivery of office supplies easy, streamlined and cost effective, allowing organisations to remain focused on business critical activities.