Over the past few years, vlogging has become an insanely competitive field, with some vloggers racking up millions of dollars to match their millions of views.
If you want to cut through the clutter and produce incredible content, you'll need a proper vlogging setup.
We asked the experts at Ted's Cameras about the equipment you need to make YouTube videos, and here are the five must-haves:
1. A good camera for vlogging
To create strong content, you need a high-performing camera. The type of camera doesn't matter as much – you can vlog using a small compact digital camera or a mirrorless model with interchangeable lens. But your digital camera should have the following features:
High video quality – Look for a camera with 1080p or 4K resolution.
Microphone input. If possible, get a camera with a built-in mic, plus a port to connect an external mic.
Rotating LCD screen – That way, you can adjust the angle of the camera to suit the setting – just like you would with a camcorder.
Optical image stabilisation (OIS) – This will keep your videos smooth and blur-free, even if you're vlogging on the go.
WiFi connectivity – Most high-end cameras these days have this feature, which reduces the time it takes to transfer files to your phone, computer or tablet.
Manual mode – As you polish your photography skills, you'll appreciate being able to tweak the aperture, ISO, shutter speed and white balance.
Portability – Choose a camera you can comfortably carry. Mirrorless cameras are popular among bloggers because they rival the quality of a DSLR, but are more compact.
It's not unusual for vloggers to start with camcorders and webcams, and then upgrade to a mirrorless or DSLR when they're ready to take their content to the next level.
Ted's top cameras for vlogging:
Canon EOS M50 – Our pick for beginners, this mirrorless camera captures 4K videos and performs well in all kinds of lighting conditions.
The Sony RX100 Mark VI – A great entry-point camera, this affordable compact has an impressive 1-inch image sensor and 8x optical zoom lens.
Sony A6400 – This mirrorless camera shoots 4K video, and boasts a touch-sensitive LCD screen that can be tilted a full 180 degrees. It doesn't have a time limit either, so you can film for as long as you have battery!
Panasonic Lumix S1 – This mirrorless camera hit the market earlier this year. It captures crisp 4K footage and features a double-edged screen so you can play back your footage.
Panasonic Lumix GH5 – With a dust-, splash- and freeze-proof design, this mirrorless camera is the perfect companion on vlogging adventures. It shoots stunning 4K videos and boasts a huge 3.2" electronic viewfinder.
2. A tripod or selfie stick
Think of this as your camera's support system. As a content creator, you can't afford to shoot unsteady footage – it'll distract your viewers and potentially turn them off. That's where a tripod comes in. It holds your camera still and eliminates any shaking or jarring, so you end up with clear, crisp footage. The best vloggers are animated, and a tripod will free up your hands so you can actually use them!
When you're researching tripods, consider two things: the weight of your camera, and where you will be filming the most.
If you're planning to prop your camera on a desk, look into a mini or tabletop tripod. They're small and lightweight, and can handle a digital compact camera and short lens.
Ted's Top Pick: Manfrotto Pixi Mini Tripod with Ball Head
If you have a heavier camera or often shoot on location, opt for a travel or medium-duty tripod. Travel tripods are sturdy enough to support a mirrorless camera or DSLR, and can be folded down to a small size. Medium-duty tripods are much heavier, but they provide the best protection for your camera.
Ted's Top Picks: Manfrotto Befree Advanced Travel Tripod, Vanguard Veo2S 204AB Travel Tripod and Manfrotto MK290XT + 3 Way Head
If you're an outdoorsy vlogger and never know where you'll need to rest your camera, a flexible gorillapod might come in handy. They come in a range of shapes and sizes to suit different cameras.
Ted's Top Picks: Joby Gorillapod 325 Stand Magnetic and Joby Gorillapod 1K Kit (with Ballhead)
Finally, if you move around a lot while you're vlogging, a selfie stick might serve you better. It will help to steady the camera while allowing you to stay in the centre of your frame.
Ted's Top Picks: Benro Selfie Stick and Manfrotto Xtreme Selfie Stick & Monopod
3. A microphone
Vlogs have two components: video and audio. While it's important to wow your viewers with well-produced video, it's equally essential that they can hear you. If they have to strain to listen to what you're saying over muffled or quiet audio, there's a good chance they'll skip the video altogether.
Your camera probably has a built-in microphone. While this mic is fine for recording home videos, it's not suitable for videos that are intended for a larger audience. Luckily, you can attach an external mic to your camera. This will suppress any background noise and sharpen your voice.
There are a few types of external mics on the market, from easy-to-use directional microphones that are mounted to the hot-shoe on your camera, to lavalier-style microphones that can be discreetly attached to your clothes. These are also known as lapel microphones, and you'll find the most professional YouTubers use them.
Ted's Top Picks: Rode Wireless GO, Rode VideoMicro, Rode VideoMic and Smart MYK Directional Microphone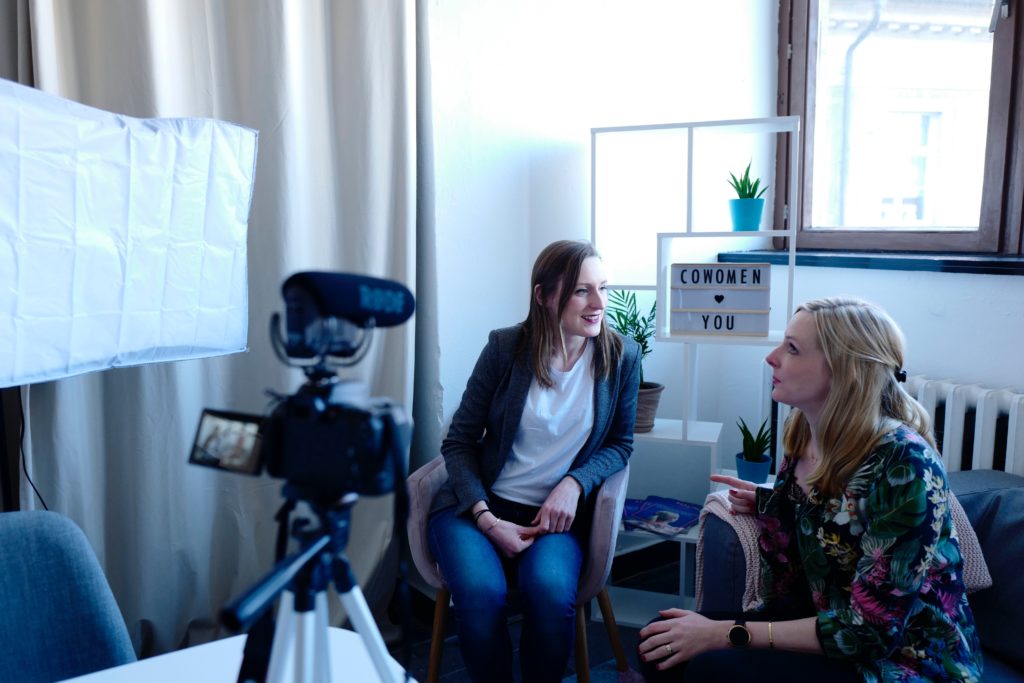 4. A lighting system
Whether you're shooting indoors or outdoors, lighting can make or break your video. You don't need to understand the ins and outs of advanced lighting techniques, but if you're hoping to turn your vlogging into a career, it's worth investing in some lighting equipment. The right lighting can brighten up dimly-lit settings and draw the viewer's attention to more important things, like your face. It will also make the colours in your video pop, and viewers love vibrant videos.
At Ted's, we stock a range of LED video lights that will help you to achieve the lighting you want and film professional-looking videos. The best light is natural light, so we suggest buying a reflector, too. This handy tool will not only make the most of any natural light you come across – but direct it so it better illuminates your face.
Ted's Top Picks: Glanz 312A LED Light, Glanz LED 144 Video Light, Phottix Nuada S LED Light and Manfrotto Lumimuse 8 LED Pocket Light
5. A gimbal stabiliser
Shaky, bumpy footage can make your content look amateurish. To avoid that, take advantage of tools that will stabilise your camera – and improve your video quality.
YouTubers typically use gimbal stabilisers, which are discreet devices that offer the support of a tripod while giving you the freedom to pivot your feet. Whether you shoot moving subjects or film while you'reon the move – like from a car – a gimbal will help to steady your camera.
There are hundreds of models on the market. If you're using a mirrorless camera or DSLR, you'll need a gimbal that can handle the weight. For vlogging, we recommend a flexible 3-axis gimbal.
Ted's Top Picks: Moza Air Cross Gimbal and DJI Ronin-S 3-Axis Gimbal
Make your content stand out
There you have it! With these 5 vlogging essentials in your kit, you'll be on your way to creating content your audience loves to watch.
Need to raise capital? Want to become a more persuasive presenter? Want to master social media? Is it time to overhaul your website? Unlock the library to get free access to free cheat sheets and business tools. Click here for free business tools.