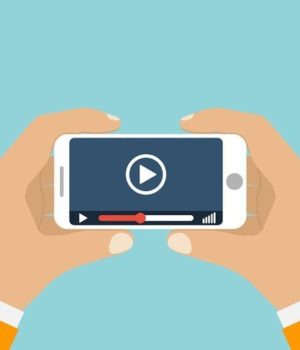 The history of explainer videos can be traced back to 2007 when instructional video company Common Craft created one explaining how to use Twitter, which was still a new social media platform that most people didn't know how to find their way around back then.
Combining simple graphics and layman language, the video attracted 10 million views and sparked the mass embracing of Twitter by millions of users which has helped it become the widely impactful global techno-cultural phenomenon that it has grown into today.
Since then, businesses of all sizes have harnessed the power of short, compelling videos to boost their brands. Another famous example is the explainer video created for Dropbox by Common Craft which helped turn it from a small tech startup to an industry giant.
What is an explainer video?
An explainer video is a short video that aims to share a business brand's story and communicate the value proposition of its product/service in the shortest time and most unforgettable manner possible.
They can be shown as YouTube ads or displayed on landing pages, social media and in email campaigns. You can also use them in paid TV ads, trade show booths, sales pitch presentations and more. You can think of it as the digital age equivalent of an elevator pitch for a business' product or service – always just one play button away from any of its potential customers, employees or investors out there.
A good explainer video should therefore be specifically designed to capture the intended audience's attention and then make the most it while it's still hot. This is why the most successful ones out there are always brief, straight to the point and most importantly, have a clear call-to-action at the end.
Why make an explainer video for your business?
Here are the top three reasons why explainer videos are great for business:
1. They are extremely efficient
An explainer video is your digital salesperson that is capable of delivering the perfect pitch every single time, to multiple people in multiple places at once. They are particularly compelling as they appeal to the viewer's emotion by highlighting the problems they face and offering solutions. Explainer videos also show the personality of the brand and offer a human side to the business in way that text alone can't.
2. They boost sales & conversions
Explainer videos boost sales and conversions by giving the potential customer a solid feel of what to expect from your product or service and this helps them make their mind up much faster about making a purchase. They also help you earn the trust of your customer by showing that you're willing to make a substantial effort to reach out to them and explain how you can help them, in a concise and simple way.
3. They help you get found easier
Adding an explainer video lowers your website's bounce rate as more visitors will stick around to watch it and more of those will stick around to browse more pages after it's done. All this raises your user engagement rate which is known to contribute significantly to SEO ranking. Explainer videos are also perfect for being found on the various social media platforms where video content is big right now.
Which explainer video style should you use?
Explainer videos are all about using the power of storytelling to enhance your marketing efforts. They can be made in different styles, which are all available for your brand to leverage as best as possible:
Live action:
Few things make a message more relatable than hearing it straight from a living, breathing human being and this is why you should include people in your explainer videos whenever you can in order to tap into that natural instinct people have to connect with others. This is particularly great for testimonial videos.
Animation:
Animated explainer videos are perfect for colorful storytelling and sharing complex, abstract ideas. They are the most versatile, but also most expensive, style of explainer video with different sub-styles to choose from such as motion graphics, stop motion, kinetic typography, animated infographics and cutout animation.
Whiteboard drawing:
Whiteboard animations are reminiscent of our childhood experiences of learning at school, tapping into our deep-rooted fascination with watching and understanding messages as they are written right in front of our eyes. This style is particularly useful for sharing messages that need to be broken down into smaller parts as you can zoom out at the end to show how every piece connects to the others.
Screencast video:
A screencast (sometimes referred to as a screen capture video or screen recording) is simply a video recording of your computer screen (think screenshot, but in video format) and typically includes audio narration. Screencasts are perfect for instructional explainer videos, especially for new software.
How to make your own explainer video
There are three key steps you need to follow in putting together a high-quality explainer video:
1. Start by fast-forwarding to the end
Given the time constraints (1-2 minutes) of the average explainer video, the very first step you should take is to think about why you're even bothering to create one in the first place. You need to figure out what you want the viewer to do as soon as the video stops. Make sure you first come up with a clear call to action before you go any further, whether it is to sign up for something or to make a purchase.
2. Figure out whose attention you want
Once you have zeroed in on a specific call to action, the next step is to determine your audience – who exactly you want to take that action. Once again, keep in mind that explainer videos are short by nature and if you don't speak to a specific audience, your video is destined for failure. The broader the message, the less compelling it is. You can't target everyone and if you try, you'll just miss everyone.
3. Shape your narrative, weave your story
After you have identified the target audience for your call to action, you need to craft the engaging and compelling story that reels them in and leads up to it. The key is to weave a relatable story about the problem your viewer is facing and how your product/service is the solution that will improve their life.
Start by doing your research on the problem such that you understand it enough to articulate it in a concise, relatable manner. A well-stated problem lets your viewer know that you really know what you're doing and that they can actually trust you because you know where they are coming from.
Next, introduce and showcase your solution. Remember to focus less on highlighting and listing your features, and more on communicating how your product or service will make your viewer's life easier.
In Summary
Explainer videos are perfect for companies like Twitter and Dropbox, which offer services that are not easy to clearly describe and are not intuitively understood by the average person. However, they are also useful for just about any business that has a message it wants to share with the world about its products/services especially small to medium enterprises (SMEs).
The age of the explainer video has levelled the playing field, allowing SMEs with a little creativity to grab the attention of millions of people – a feat that was previously only achievable with the kind of marketing budgets that only large companies could afford. Video production for an explainer video is affordable to the average SME and also easily delivers a high return on investment (ROI).
Gerald Ainomugisha is a Content Solutions Provider (CSP). Gerald offers freelance writing services to clients the world over especially in the niches of HR management, business tech and digital marketing.