The accelerator program provides our startup entrepreneurs and business innovators with first-class mentoring assistance while connecting them with investors and potential business partners.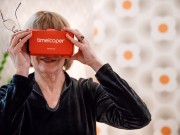 CEA will host TimeLooper for a six month period, helping the team to connect to the local start-up networks, provide access to mentors and its onsite coworking space, The Coterie, business advice, access to its incubator masterclass program, exposure at Creative3 and other levels of support required to accelerate the growth of the platform.
Jethro Batts was working for one of Australia's largest campervan companies when he ventured out on his own to create a website for vanners...
Succeeding in business in 2014 will take more than a lucky strike. As it does in any year, many factors come into play in...
"We now have 450 live videos on our dedicated YouTube site, with more than 5,000 subscribers and a track record of 6.5 million views and we will be looking to grow this further with a better and more enriching experience for users." Andrew McEvoy, Managing Director, Tourism Australia.
"Since the Henry Tax Review recommendations were released in January, miners have not curbed their hiring activities in anticipation of a tax on profits," said Robert Olivier, director of global market intelligence for Advantage Resourcing. "In fact, they have done quite the opposite. They've hit the employment button hard to meet surging global demand."
Being a single industry economy is notoriously dangerous. And few countries understand this better than Iceland. Not wanting to remain in the doldrums, Iceland is trying to re-brand itself as a journalistic haven, centre of creativity and popular tourist destination. Cue cart-wheeling citizens.
Which trends in Japan will turn into hot opportunities for entrepreneurs located outside the country? I gave this some thought while sliding down Japan's best powder ski slopes as Australia was sweltering over summer. Here are the first two of four "hot" sectors at the top of my list.
Market research company and business information provider IBISWorld has recently released its findings on Australia's leading export industries for 2010 and their outlook for the next five years.
Scotland is not blessed with Rome's basilicas or the Manhattan's skyscrapers. When your accidental national emblems are bagpipes and haggis, you need to adopt a creative approach to selling your country to the world as a tourist destination. Enter Scottish comedian Danny Bhoy, with this hilarious overview of his country's unique points of difference. (Salty language warning -- and we're not talking about the accents...)