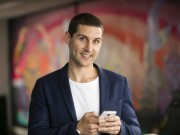 Aussie start-up Unlockd is now available in the US thanks to a deal with Boost Mobile, a Sprint Telecom company as well as partnerships with Twitter & Yahoo
Tech business models are being used in a surprising array of businesses that aren't your typical tech businesses; from car makers to coffee roasters.
Starbucks employees are notorious for misspelling the names of customers. This interesting spelling occurs when the order taker writes the customer's name on the side...
Bao Hoang and his wife had always discussed a need for an alternative to sushi. After countless compliments over the rice paper rolls (amongst many...
A Brisbane coffee mogul has beaten Starbucks at its own game. Launching into India, before the U.S. behemoth, Di Bella Coffee has had an overwhelming response from a nation of tea drinkers.
Every year, we at Stately Anthill Manor await the first day of April with giddy anticipation. The array of innovation unveiled by companies of every stripe never fails to drop our jaws to the pavement. But none approach Ikea Australia's gift to man's best friend -- the Hundstol.