One10Virtual is a cutting-edge accelerator platform and learning program for founders and entrepreneurs that want to create a positive social or environmental impact through their startups.
One10 are offering places for up to 12 startups to participate in Activate, and 5 scaleups in Amplify in each location, Melbourne, Sydney, Brisbane and its first regional centre Geelong, Victoria.
"At One10, we receive so many pitches from people who get lost between the idea and the execution, lacking the skills or process to create a viable, sustainable and impactful business," said Veronica Munro, One10 CEO.
One10, Australia's national social enterprise accelerator, has accepted its first Sydney-based participant, a charity giving platform called Promise Or Pay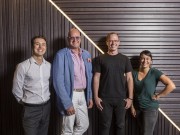 One10 has accepted healthtech start-up Health Delivered as the first participant in its Social Accelerator and made a undisclosed amount of seed funding
Global social entrepreneur, Geoff Gourley, recently launched One10, a new national incubator and accelerator for social enterprise, HQ in Melbourne