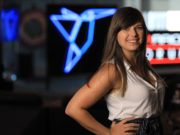 NSW startups have one week left to register interest in pitching for $1 million investment from leading Australian venture capital firm Right Click Capital at StartCon 2018
Scott Morrison delivered his second budget in May and there is barely a ripple in the water. No huge sweeping reforms, no budget emergencies, it was almost a non-event.
Sydney company Kontented wants to become "the Netflix of bite-sized content" aimed at the millennial generation with its mobile youth web platform and video network, SnackableTV.
StopRotor's Deanne Watkins said its unique design allows the UAV to take off and hover like a helicopter and but also reach speeds of 110km/h for up to 10 hours.
The research indicated the See & Save system could save five minutes in emergency response time (down from 11 minutes to six minutes) - which could mean the difference between life and death in some serious situations.
Four startups with a fledgling product or service will be selected to participate in the Acceleration Program and be supported through a mentored process to become a market ready, investable company.
The private sector led, NSW Government-backed Jobs for NSW is calling on business accelerators, incubators and other start-up partnering services to sign up to the new Sydney Startup Hub, which it's hoped will rival similar venues around the world.