Award winning event tech start-up iVvy is revolutionising the events industry by centralising function spaces and group accommodations for the first time ever in Australia on its new Marketplace platform.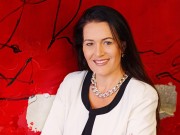 Brisbane based event management software solutions provider iVvy, announced the launch of the world's first real-time booking platform for the hospitality and MICE industries...
Bloomtools, one of Australia's most ambitious website design firms, is celebrating its eighth birthday in style by offering a free website to charities throughout Australia and Kiwi-land.The total package is quite worth having, valued at $5850! Word!
"I know it's going to sound corny," James Greig admits, "but the highlight of my day is when I hear success stories from businesses that are using my products." The 29-year-old Queenslander's products are about helping businesses help themselves -- knowing their market, sprucing up their brand, hooking their customers -- and doing it through consolidated, software-as-a-service platforms.
James Greig knew he had a powerful web-development product. The problem was how to stand out among hundreds of boutique-y competitors with more marketing muscle. So he took the "white label" route, setting out a network of resellers who put their own brand on the product. And Greig's Bloomtools, well, bloomed.