If you look back to the pre-millennial time before 1980's, there were as many dreams and talents as now. Since then, technology, the Internet and smartphones democratised opportunities and brought them closer to those with the dream to do more, especially the youth.
Blue Sky has invested in ORIGO which provides primary school maths solutions tailored to local curricula through the cloud and is now booming in the US
Blue Sky Venture Capital, a division of Blue Sky Alternative Investments Limited, is looking to raise $30 million for a new fund in a...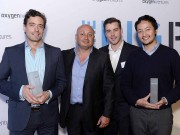 Last night, Federation Square in Melbourne was host to five eager startups vying for the attention of the crowd of over 300 and, The...