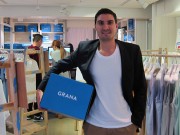 Following the Q1 announcement of its US $6 million in seed funding earlier this year, led by Golden Gate Ventures, MindWorks and Bluebell Group, the GRANA team will move into a new 18,000 square-foot centralised warehouse in Hong Kong this month to manage business growth and plans to double its headcount to 100 employees by the end of 2017.
It's a tough economy out there.   Not the actual economy silly, the attention economy. Well, for all you bored and disenfranchised folks who've seen it all; here's an advertising campaign that takes 'attention-grabbing' to the next level. With an emphasis on the grabbing. And the attention.
We recently we shared with you an ad in which women put on goofy mustaches with the hopes of getting pay that's equal to men -- a disparity that's a big problem in Australia. And now a new video has surfaced with the same message. But it's, um, cheekier.
Frustration with tardy debtors was the obvious impetus behind this nifty invention from Belgium outfit ikki; an invoice with a voice-chip that begins to make weeping noises 20 seconds after the envelope is opened. But what's truly inventive about the 'crying invoice' is its other purpose.