The Australian interior design market is one of the latest industry sectors to face disruption, with the launch of a new online platform called Milray Park.
Milray Park is making interior design services affordable, bringing a service to consumers that was traditionally used by those unconstrained by time or budget. Flat-fee packages start at $299 for a complete interior design service.
Founder and CEO, Sally Bevan, decided to create the online platform as a result of her own experience when she struggled to decorate and furnish her rented apartment on a tight budget.
"Australian's have a particularly high level of interest in home decorating and design. However, with the amount of information available now from online sources, it can be overwhelming for people to bring their ideas to life in a cohesive and affordable way," said Sally Bevan.
"Milray Park gives consumers the opportunity to access professional design advice, regardless of their budget, and achieve the best results for their home, whether it is designing a whole new look or choosing new pieces of furniture to complement their existing set-up."
What exactly does Milray park do?
Milray Park is a user-friendly visual platform, where customers simply submit a short brief and photos of the room or space they want to design. This brief is pushed to the interior designers registered on the site, who in turn send back a complete interior design plan.
The designer provides a first look, which is then refined through a feedback process. This then leads to a final design package that includes a design board, floor plan, shopping list and the designer's debrief. Customers continue to have access to their designer for two weeks following the project completion, and the in-house design team is available for an additional month free-of-charge.
Milray Park, which was purpose-built in close consultation with a group of professional interior designers, provides the opportunity for them to grow their client-base, work remotely and diversify their offerings. Since the platform went live, more than 20 designers have been on boarded and more have registered interest.
"The traditional interior design services industry is dominated by small businesses and freelancers and has a high proportion of part-time workers. Not having to worry about things like marketing, establishing an online presence, project management, payment processing and invoicing services, which is all taken care of by Milray Park,  has been hugely appealing to our designers who are able to get more customers and work more flexibly."
What is the story behind Milray Park?
Next year, Milray Park will expand its services to include landscape & garden, event styling, commercial office, hospitality, retail design and property staging. It will also look to increase the number of custom design tools available to users.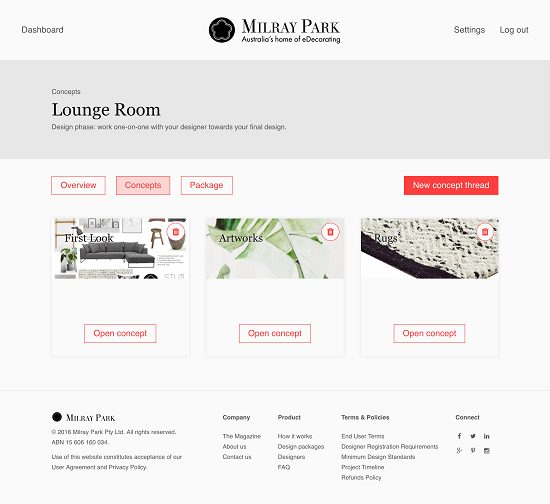 We caught up with Sally to tell us more about herself and what she is looking to achieve with her start-up. Below is what she shared with Anthill in an interview.
Who is Sally Bevan?
I grew up all over the world with my expat parents who travelled for work. However, after I'd changed schools five times in as many countries, my parents determined it was time for me to gain some stability so I finished my schooling at a school on Sydney's North Shore. Out of school I chose to study at UNSW Law School where I majored in Media and Communications for my combined Arts degree.
At that point I could have told you ten different professions that I was strongly interested in, but none that I wanted to become a domain expert in for life. My goal at that point was gaining the broadest experience possible. With that in mind after uni I joined an American law firm out working as a Capital Markets lawyer helping Australian issuers raise funds from offshore investors. And after that I jumped over then fence to work on the client side where I helped win bond work as a DCM banker for the Capital Markets team at an Institutional Bank. In early 2015 I decided to set up Milray Park, so I left my role with the Bank to do this full-time. I founded Milray Park because I wanted and needed this service for myself. My research showed that other people did too. It started from there.
What is your vision for Milray Park?
My vision for Milray Park is to develop a thriving virtual space design industry. I want to unlock amazing professional design for all.
At Milray Park we've done this by removing barriers. On the Milray Park tech platform you work with your chosen design professional any time, any place. We've also removed the price barrier by offering flat-fee services from $299 per space.
Why? Well, first of all, people fundamentally care about what the spaces they spend time in, look like. We're emotionally connected to spaces. Spaces create feelings and dictate behavior.
Secondly, we've found that a very large proportion of people struggle to make their homes what they see, love and want from magazines and online. There's a lot of inspiration but not enough guidance. People are bogged down indecision: what shade of grey should I paint with, what's the best sofa I can get for my space, and within my budget, where can I find affordable art that 'goes' with my room set up?
In a recent Deloitte Australia study over 72% of shoppers acknowledged they are already aware of the product they want to purchase when they get to the store based on their own research and not brand/retailer advertising. This is even more relevant for higher value purchases such as furniture, which are investments. People are looking for help, but it's actually not easy to find. At Milray Park we're responding to a real need for personalised, professional design help and we're removing all barriers to it.
How is it doing so far?
Milray Park Beta was release early 2016 and in the last month we have public launched the release version. We have signed up 25 designers, with more applications coming in each day.
We have implemented a free design service too, so that customers can try our platform out for their smaller design questions, as opposed to their full space design needs which we have flat-fee packages for.
We have completed our first batch of residential design jobs and next year we will be increasing our offering to landscape and garden, commercial, retail, hospitality, property staging and event styling virtual design services. So basically, we'll be designing your next pop-up shop, cafe, office space, garden, wedding, birthday party and property viewing, in addition to making your home beautiful!