Starting a business is daunting; starting one with babes in arm brings the difficulty to a whole new level.
Carrie Kwan was never one to back down from a challenge: she walked away from a high flying career in corporate finance to start up an online lifestyle blog in the days when Twitter was new.
After turning that into a successful business, and seven months pregnant, she launched her next venture Mums & Co – a membership-based service to help mums in business, backed by IAG.
Now with a newborn in tow, she is determined to help Australia's growing tribe of businessmothers flourish and grow.
Carrie knows it is not easy to launch a business. "When you start, you don't know who your market is, how people will respond to what you are selling – so much is unknown. When you run a business and have kids to look after as well, it really takes a certain type of person to do this," she says.
"But I want to say to all mums who are running a business, or thinking about running one: you can do this. And Mums & Co is here to help you succeed."
How it all started for Carrie Kwan
Working in PR and marketing in the professional services sector, Carrie was often asked for advice on where to go and what to do. She eventually gave up her well-paying job to follow her passion and founded Daily Addict – a site that acts like an online concierge, curating the city's best experiences. Launching a digital start-up at a time when the tech was so new was exciting, but Carrie wished she had better support.
"When I founded Daily Addict, I did not have an ecosystem and industry support such as advisors that can help you navigate the business side of things, access to resources and knowledge – I had to figure it out all by myself. Had I had the support back then, I would have catapulted to the next level much quicker," says Carrie.
Six years after she launched, Daily Addict was a healthy business with 20,000 engaged subscribers, 45,000 social media fans and 50,000 monthly visitors and ready for growth. At the same time, Carrie started a new personal chapter with the birth of her first son Remy.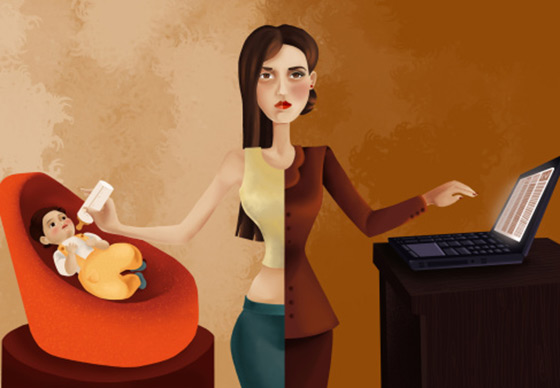 "As a mother running a business, I had new hurdles to overcome. The biggest for me was isolation – I could not attend as many meetings and functions, and despite a 'virtual team', did not have the simple daily interaction of co-workers at an office. I had to be more efficient with money and time; I had to find ways to make money stretch and I had to learn to be even better at time management," says Carrie.
"They say it takes a village to bring up a child, and I found that out first hand – I relied on my partner and family to help to give me time to run the business, attend meetings, source new business and so on. With a family, I also became more aware of the risks I exposed myself to, including business risks.
What is Mums & Co all about?
Carrie was approached by IAG's Executive General Manager Agencies Phuong Ly about forming an online business to help mothers to succeed. The shared vision that formed from the partnership is to create Australia's most connected and empowered community of mums in business.
"I am always on the lookout for great business opportunities and this is a really exciting fit. I am passionate about supporting small businesses, building a community and publishing great content.  At the time, I was half way through my second pregnancy. When I raised this with Phuong, he said 'Congratulations. You shouldn't have to choose between your family and your career'.  This is the DNA of Mums & Co," she said.
The membership-based organisation provides mothers with rich online content and access to relevant services and benefits including business support, advice and services to help them grow their business.
Mums & Co has the financial security, strength and scale that come from being part of IAG. Tapping into the immense value chain of strategic partnerships IAG hold, members have access to a range of perks, business and insurance services that they wouldn't ordinarily get access to. For instance, members are able to purchase white-goods from IAG suppliers at rates offered to the financial organisation. In addition, they have access to free services such as some HR and legal services, and can get others at heavily discounted prices.
"Mums & Co is here to foster a community of mothers in similar circumstances – an online village so to speak. We can help with solid business advice as well as the practical things, like emergency childcare, human resources services as well as business insurance for home offices. The list of strategic partners we work with on behalf of our members will continually grow – we've only scratched the surface.
"Raising a business and a family at the same time can be like an obstacle course, and having been there, I want to help women navigate this successfully and thrive. And I will be on that journey with them at the same time: running my own start-up Mums & Co while bringing up Remy and Coen. I'm very proud that I gave birth to both my second 'real' baby and second 'digital' baby at the same time!" says Carrie.