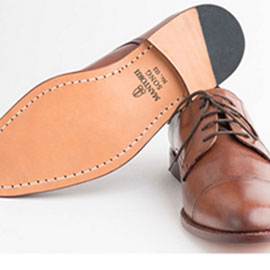 InStitchu is putting money to work quickly.
Last month, the bespoke online tailor raised an undisclosed amount from Disruptive Capital, the technology focussed arm of Aura Capital Group, as we reported here. This week, it closed on an acquisition, picking up custom dress-shoemaker Mantorii, a year-old startup.
The acquisition will bring the "two businesses under the same roof, but they will remain separate brands, operating as virtual 'brother stores' with their own dedicated teams," the Sydney startup said.
Virtual brothers-in-arms
True enough, InStitchu and Mantorii are soul brothers. One crafts suits in low-cost Shanghai, the other sources its high-quality shoes from the even-lower cost Vietnam, selling them at prices from $299 a pair onwards. Both have taken the virtual route and are keen to eye global markets. It's no surprise then that InStitchu co-founder Robin McGowan called Mantorii a "logical" acquisition target.
"The great thing about Mantorii is that it fits so perfectly alongside InStitchu. It gives the thousands of InStitchu customers who we currently tailor suits and shirts for, the ability to source equally awesome dress shoes from a business they trust, knowing that they'll get a quality product and top notch service," said McGowan.
McGowan also expressed the view that Mantorii shoes – while being of "amazing quality" – is relatively new and lacks the market penetration it deserves. "That's something we reckon will change rapidly," he said.
"Mantorii has a loyal following of customers, but we've shown with InStitchu, that we can quickly grow the customer-base, streamline the operations, and expand globally," he added.
Globalised Hungarian with Asian smarts
Mantorii was co-founded last year by Aron Szabo, a Hungarian who graduated from Stanford University and worked for multinational companies for several years. He has worked out of Hong Kong, Shanghai and Saigon, and clearly knows the region well.
When he decided to set shop, Szabo picked the Philippines for the company's headquarters and a third-generation shoemaker in Vietnam to handcraft the shoes. Choosing the online sales channels, he used technology to allow users the option to fully customize their shoes, starting with the style, leather, sole and broguing.
McGowan sees significant opportunities in advancing, simultaneously, bespoke tailoring and custom-made shoes online not just in Australia but in several overseas markets.
McGowan believes Australian women are already comfortable with buying shoes online and, in fact, see key advantages of doing so. With the right product and service mix, men too would quickly embrace the online shoe shopping experience, he added.
"The made-to-order model enables us to add another dimension to the shopping. It means we can incorporate sophisticated design tools, so customers can create truly personalised products, made specifically to their own design preferences," said McGowan.
InStitchu says Australians have used online tools on its website to design over 50,000 suits that were then tailored in Shanghai and delivered in about three weeks. The suits cost between $299 and $599. Men can also design made-to-measure shirts and accessories.
Need to raise capital? Want to become a more persuasive presenter? Want to master social media? Is it time to overhaul your website? Unlock the library to get free access to free cheat sheets and business tools. Click here for free business tools.