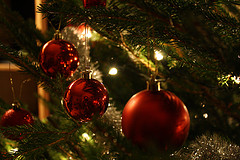 "Bah! Humbug!"
The famous catchphrase by Ebenezer Scrooge, the mean miserly character in Charles Dickens' "A Christmas Carol," might best describe employers' sentiments when it comes to traditional office Christmas parties.
Of course, it is not entirely accurate. Australian employers are far from anti-Christmas, or anti-employees. But the Grinch that spooks them is a three-year-old law called Fair Work Australia that could potentially hold them liable for just about anything that happens at office Christmas parties.
Consequently, only 63% of Australian bosses will organise a Christmas Party for staff this year, down from 84% last year, according to Employsure, a labour relations consulting firm in Sydney that surveyed 663 Australian firms.
A mixed blessing
"Ebenezer Scrooge is alive and well in the Australian workplace," declared Employsure Managing Director Edward Mallett. "The office party used to provide amusing team-building stories for the rest of the year, now it is more likely to result in a claim before Fair Work Australia."
To be sure, Christmas parties throw up a number of issues the world over, and are hardly the frats they once were. The coming together of free and copious alcohol, intermingled sometimes with drugs, has led to a rise in behiavoural issues, notably of the sexual kind.
In the U.K., one in 10 is disciplined or dismissed for inappropriate behaviour at a Christmas party, nearly 50% of which are for romantic or sexual activity. One in three ends up having drunken sex with a colleague. Studies also suggest loss to businesses of $400 million each year on account of loss of productivity and "lost man hours," caused by hangovers and leave of absences.
Fair Work Australia adds another element to this Pandora's box, if you will, giving employees a forum for redress.
Mallett cited a case involving an employee who urinated over the side of a balcony onto diners below at his employer's Christmas party. The employer apparently dismissed the employee but now faces a lawsuit.
"The fact that the employer was sued when the misconduct was seemingly so plain emphasises the minefield of Christmas parties," said Mallett, who says there are a number of other cases. Still, it is not clear how many Christmas parties-related cases have been filed under Fair Work Australia laws, or if any claims have been upheld.
"Potential claims include harassment and discrimination. The risk of workplace injuries should also be considered, particularly when alcohol is involved," says Mallett. "Employee shenanigans at the Christmas party may cost the employer money and a fair amount of thought and organisation needs to be considered to ensure a trouble-free party."
Employsure says employers have a number of other ways to reward their workers in lieu of Christmas parties. These include gifts, bonuses, donations to employee-chosen charities, extra days off work, or extra pay for unutilised sick leave.