They cartwheeled, schmoozed and cajoled us; dangled riches before our very eyes. But coolness cannot be bought. Coolness simply is. And while some thought us nuts for trying; here they are. Australia's coolest companies revealed. By James C. Tuckerman and Paul Ryan
THE TOP TEN (IN NO PARTICULAR ORDER)
---
When the idea to run an award program recognising 'cool' Australian companies was first raised during an editorial meeting in early January this year, it was initially greeted with laughter. It was such an unusual, 'out there' idea that it was almost dismissed immediately.
Firstly, we were concerned about how we would ultimately go about ranking companies against the very subjective concept of 'cool'. Secondly, we had never taken on anything quite so ambitious. But the more we thought and talked about the inaugural Australian Anthill 'Cool Company Awards', the more it gained momentum. Ultimately, it would take on a life of its own.
From the moment our intentions were announced, it became clear to the team at Anthill that the concept of 'cool', or the idea of building a 'cool' company, is one that resonates very strongly with members of the Australian entrepreneurial business community.
The first advertisement announcing the Awards, published in our Feb/Mar 2006 edition, attracted an immediate flurry of calls, both excited and amused. The first email announcement incited a veritable flood. We had tapped into an area, hit a vein, that our readers felt passionate about. So passionate, in fact, that they felt compelled to refer their friends (and their friends' friends), their colleagues, clients, peers and suppliers.
Why? That's a question that initially confounded us also. But it shouldn't have.
New entrepreneurial companies are often built to reflect the ambitions and character traits of their founders. The culture of a company, initially, is often said to reflect the personality of its early staff members. And further, the highs and lows that inevitably attach themselves to fast growth ventures quite often (and quite quickly) take emotional precedence over the creation and sale of the product or service that the company was initially built to supply.
For many corporation builders, the creation of a happy, sustainable, profitable company is the ultimate high; often better than the creation of a high selling product or well-known brand; often better than the purpose for creating the business in the first place.
A well run company that reflects the values of its staff and founders, has significant upside and is driven by the process of creation (rather than pure wealth creation), is generally regarded by its staff, its management, its backers and its founders… as 'cool'.
The method behind the 'coolness'
Of course, broad observations aside, how does a business magazine judge one company to be 'cool' and another to be 'less cool'? Or worse, simply 'uncool'?
In an effort to add as much method to the judging process as possible, six criteria were developed, against which all applications would be judged. These criteria came under the following headings: Youth and Attitude (with emphasis that age of staff and owners should not be a determinant), Reinvention, Creativity, Innovation, Entrepreneurship, The X-Factor.
These criteria were used to narrow down applicants and select the top fifty (and later, the top twenty). However, the term 'cool' is highly subjective and will mean different things to different people, as we ultimately discovered during the final round of judging, as presided over by seven Australian entrepreneurs and professionals, specifically selected for the variety and depth of their professional and personal experiences.
And, of course, to each of these judges the word 'cool' meant (and still means) a different thing.
Ultimately, the contrasting opinions of our seven judges acted as a blessing in disguise, by adding to the eclectic nature of the final selection. It also helped us define the meaning of the term, so far as it was applied to the judging of these awards.
In essence, the term 'cool' was generally used to describe a company that is bringing about change by doing things differently or defying convention. Like James Dean in Rebel Without a Cause, the companies chosen were selected for their unique qualities as role models at a certain place in time, for the here and now. They either intrinsically represent or are preparing for changes in customer behaviours (and demographics) and evolving business attitudes.
They aren't afraid of the future, of failure, or challenging the status quo.
And the winner is… BigWorld Pty Ltd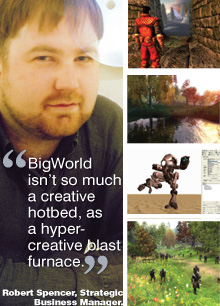 According to mainstream culture, the end users of BigWorld's "massively multi-player online game" (MMOG) middleware platform are not exactly cool. In fact, they're geeks. However, BigWorld the company received so many ticks in so many boxes that our judges (after vigorous debate) had little choice but to name it the winner of Australian Anthill's inaugural Cool Company Awards.
So what makes a bunch of Canberra-based computer game techies so cool? Well, in short, vision, strategy and execution.
BigWorld's technology suite is the de facto industry standard middleware platform for MMOGs. For laymen (and let's face it, that's most of us), imagine moving through a fictional online world in which millions of other people around the globe are interacting with you while playing their own game – a "massively multi-player online game (MMOG)". BigWorld makes this possible by developing and licensing the technology and server infrastructure upon which international game developers build their vast interactive worlds.
From a computer games industry perspective, MMOG represents the vanguard. But for those not particularly impressed by the virtual world of computer games, it's hard to deny that BigWorld is an outrageously cool company. Why? Because it began life several years before an online games industry existed. In the words of Robert Spencer, BigWorld's Strategic Business Manager, "This is on the level with setting up a shovel factory in order to cope with the gold rush you 'know' will start… in 6 years time!"
Through the founders' vision, risk-taking, hard work and superb execution, BigWorld built upon its first mover advantage to become today's global industry leader. The company is so far ahead of its closest competitors, it might as well be operating alone. "We're years ahead of our nearest competitor and accelerating at the speed of thought," says Spencer.
Always one step ahead
In 1998, BigWorld founder John DeMargheriti had a vision for the future of computer games in the rapidly developing internet age. Cyberspace, it seemed to him, was the perfect environment for gamers from all over the world to meet and interact in the virtual worlds of the games themselves.
DeMargheriti shared his vision with his business partners, Steve Wang and Simon Hayes, and before too long they had written a business plan and secured $5 million in start-up capital from an R&D Start grant and the first VCs they pitched to (if you don't mind).
Developing a MMOG middleware platform years before MMOGs themselves existed was a massive undertaking and required serious R&D. But in a risk-reward scenario of momentous proportions, BigWorld are the ones left smiling. The first games developed with its technology are nearing completion.
"We were the first mover, developed some seriously cool technology and had the persistence to see it through and launch the product," says Spencer. "Thanks to that combination, we're now the leaders in the market and are working hard to maintain our advantage."
Final words
Why are you cool?
"We're in the games industry, which is pretty cool. We are leading the world with some seriously impressive technology, which is also pretty amazing. We create remarkable tools and technologies that are used by game developers all over this planet to create astounding new virtual worlds that define the future and we can visit for fun. We think that's 'cool'."
So do we, and so did the Cool Company Award judging panel. Congratulations BigWorld!
Accolades
We were determined that past accolades should not overly influence our judge's assessment of a company's present "coolness". However, it is worth pointing out that in 2005, BigWorld was named one of Red Herring magazine's top 100 private companies in Asia. The company has also taken out several local export awards in recent years. And as the MMOG market matures, BigWorld is perfectly positioned to capitalise on its position way out in front of the pack.
---
SNAPSHOT
What is BigWorld?
Develop and license their "Massively multiplayer online game" (MMOG) middleware platform.
What does this mean?
They build the platforms and supply the technology that developers use to create vast worlds for online multi-gamers. This represents the cutting edge of gaming and the industry's future.
Why are they cool?
They had vision to begin business years before there was even a market for the technology. Now they are the global leader.
---
VITAL STATISTICS
BigWorld PTY LTD
Industry: Games (IT)
Based: ACT
Start Year: 1999
Structure: PRIVATE
Shareholders: <50
Staff <30
Exit: Aspiration for IPO in 3-5years
Export: 100%
Motivations: 70% Business creation; 30% Wealth creation
Start Cap: $5M (Grant + Angel)
Goal: Remain a global powerhouse within a niche
Laservision
What could possibly be cooler than laser shows? How about the Australian company responsible for lighting up some of the world's most recognisable landmarks and high powered corporate functions?
When assessing the coolness of Sydney-based Laservision, the real challenge for our judges was being able to look beyond the 'Wow" factor of its light show extravaganzas. But when they did, Laservision's business fundamentals proved to be as impressive as its product range.
Founded in 1984, Laservision is the brainchild of Managing Director Paul McCloskey, who invented and patented an innovative method to harness the power of laser energy. McCloskey managed to stifle the natural inclination to turn his attention to intergalactic conquest, instead applying his technological innovation to the entertainment industry.
Laservision started out as a small events company servicing New Year's Eve-style events and night club installations. Today, the company is dominating the world's attractions and special events markets, having exported its technology and shows to over 20 countries. Laservision deploys its proprietary technology to offer a "turn-key" solution for clients. It was responsible for lighting up Sydney's Darling Harbour prior to the 2000 Olympics, and it has also deliverd laser spectaculars to Singapore's Sentosa Island, Korea (Samsung 'Everland') and Hong Kong's recently produced 'Symphony of Light' (which entered the Guinness Book of World Records as the "Largest Permanent Lighting and Sound Show").
Reinvention
Another fact that impressed the judges was Laservision's ability to innovate according to market demands. Following the laser entertainment industry's downturn in the late-nineties, Laservision diversified into other entertainment mediums, such as architectural lighting, high powered lasers, fountains, water screens, special effects, pyrotechnics and surround sound. It insulated the company from specific market fluctuations and made it stronger overall.
Most bizare job
Kanack's uprising in New Caledonia in 1989: The French Government engaged Laservision to provide a laser billboard campaign in New Caledonia to combat an uprising of the local indigenous peoples. Under government army machine gun guard and at short notice, the Laservision team compiled a laser show that integrated subliminal messages in an attempt to calm the uprising. The show was a success and the Laservision team made it out alive!
Final words
Why are you cool?
"Just like a James Bond Movie, everyone dreams of attending the world's best parties and being paid for it! Imagine travelling to the world's best theme parks, attending the largest corporate launches, writing on the side of the Opera House in front of a televised audience of four billion, developing dynamic lighting schemes on a city scale, not to mention breaking Guinness World Records!!! All of this while working along-side such a great bunch of mates!"
Accolades
Again, we don't want to harp on past awards being a barometer for current coolness. But it would be remiss not to point out that Laservision's founder, Paul McCloskey, was awarded the inaugural Australian National 'Entrepreneur of the Year' prize in 1996 (the first in a long line of domestic and international gongs awarded to Laservision).
---
SNAPSHOT
What is Laservision?
"Entertainment Communications" specialist, producing laser and pyrotechnic shows for high-end clients.
What does this mean?
Spectacular shows around the world, from the Sydney Opera House to Hong Kong's 'Symphony of Light'.
Why are they cool?
Stunning product, superbly marketed internationally. An inherent commitment to R&D and technological innovation.
---
VITAL STATISTICS
Laservision
Industry: Entertainment, Tourism
Based: NSW
Start Year: 1984
Structure: Private
Shareholders: N/A
Staff 75
Exit: No plans
Export: 81-100%
Motivations: 70% Business creation; 30% Wealth creation
Start Cap: "Every penny I had!" (savings, credit card, bank)
Goal: Continue to establish the company as a global market leader.
Close the Loop
"Cool" isn't all fun and games. According to our judging panel, companies that offer solutions to environmental problems rank extremely high on the cool-o-metre. Our Cool Company judges were thoroughly impressed with Australian green tech recycler, Close the Loop.
Founded in 2000 by Steve Morriss, Close the Loop (CtL) is an electronics recycling company that developed a new technology and by-product to solve the problem of used printer ink cartridges and related electronics equipment ending up as landfill.
Traditionally, ink cartridges have been difficult to recycle because each cartridge typically contains eight different types of plastic and four types of metal. As a result, approximately 20 million end up as landfill each year in Australia, where they take hundreds of years to break down.
Using state-of-the-art materials separation processes, CtL recycles cartridges with zero waste to landfill. The company is profitable, with the bulk of its revenue derived from collection and recycling contracts with major printing manufacturers, including Brother, Canon, Epson, Hewlett-Packard (Asia-Pacific), IBM, Lanier, Lexmark (world-wide), Panasonic, Ricoh and Toshiba (that covers 80 percent of the Australian market). CtL has over 20,000 recycling collection points around Australia thanks to partnerships with major retail outlets Australia Post, Harvey Norman, Officeworks, Tandy and Dick Smith Electronic; as well as a close working relationship with the not-for-profit green organisation, Planet Ark. To date, CtL has recycled in excess of 1.5 million items, with zero waste and zero incineration.
One man's trash, another man's treasure
But wait, there's more! CtL has also developed a new substance as a by-product of the e-waste it recycles. "eWood", the outcome of extensive R&D, is suitable for use in fences, mines, reusable glass transport packing, outdoor furniture and non-toxic children's playground equipment. It's a unique end-to-end eWaste solution that sees revenue generated both at the point of eWaste collection and on the sale of recycled "eWood". All for the benefit of society.
CtL's strong relationships with major print manufacturers are opening doors internationally, and a recent move into mobile phone recycling is set to broaden its market dramatically. CtL epitomises the fact that, far from being an impediment to commercial success, being green can drive it.
Final words
Why are you cool?
"We are a profitable and environmentally sustainable business on all levels – we have remained true to our vision and have designed a commercial model that applies on a global level."
On entrepreneurship…
"CtL started with an idea, which we made commercially viable. We encourage our team to innovate, think for themselves and promote new ideas and new ways of doing things. Our science team researches and secures our IP. Our sales team manages our clients on a global level and constantly looks for new commercial opportunities. We have partnerships with some of Australia's biggest mainstream retailers, so we have made it easy for people to recycle. This end-to-end solution didn't exist before CtL."
---
SNAPSHOT
An Australian electronics recycling company that specialises in zero waste resource recovery.
What does this mean?
A 'zero waste to landfill' technology and a truly unique end-to-end electronic waste recycling system.
Why are they cool?
A green and ethical approach to the 'e-waste' business, with a sustainable business model.
---
VITAL STATISTICS
Close The Loop
• Industry: Recycling
Based: VIC
Start Year: 2000
Structure: Limited
Shareholders: >1000
Staff 40
Exit: Aspiration for IPO in 2-5 years
Export: 31-50%
Motivations: 70% Business creation; 30% wealth creation
Start Cap: 20K (small private investments)
Goal: Become a global player
---
Belly Button Maternity
There weren't many quality retail entries for the Cool Company Awards, but one that certainly made an impact was the stylish and sassy pregnant women's fashion label, Belly Button Maternity.
Founded in 2000, Melbourne mum Deborah Kapsiotis launched her own funky pregnant women's fashion label out of frustration at having to wear unfashionable clothes just because she was pregnant. She tossed in her corporate job and set about developing clothes for pregnant women that were, as the company's tagline states, "Sexy, Sassy & Sophisticated".
There are many reasons why Belly Button Maternity (BBM) is a downright cool company. When Kapsiotis first started selling her new maternity line to retailers in Sydney and Melbourne she was greeted with considerable apprehension. So she backed herself and started her own retail store in the Melbourne suburb of Northcote. The label's popularity soon saw it expand to six stores across Melbourne, one in Sydney, and a thriving online business.
BBM takes the latest Spring/Summer and Autumn/Winter runway fashions from around the world and applies them to clothes specially designed for pregnant women. But it's not just about expanding waist lines. BBM has been responsible for several new inventions in maternity wear, "including the Belly Tube, a t-shirt extender that allows you to wear your favourite non-maternity tees and cover your belly, a top and skirt in one that can be worn 8-different ways and a dress that can be worn 12-different ways".
The label's combination of style, utility and value often sells itself through word of mouth, but this has been helped along by some provocative marketing. An advertisement featuring a naked pregnant woman and the line: "If I can't wear Belly Button, I'd rather wear nothing at all," caused quite a stir in the traditionally staid maternity wear industry. It's this kind of cool, edgy branding that has seen BBM's line picked up by more than 100 maternity stores in Australia, the US, Canada and Singapore. The label has also been seen on the pregnant bodies of A-list celebrities, including Angelina Jolie, Sarah O'Hare, Claudia Karvan, Nicky Buckley, Sophie Fawkner and Lisa McCune.
Final words
Why are you cool?
For addressing a glaring gap in the fashion industry, and doing it with edge, class and more than a dash of marketing panache, Belly Button Maternity has to be one of the coolest companies in Australia.
On company culture & values…
"The company is run by women for women, and the majority of staff and consultants are young mothers themselves. The head office in Fairfield is turned into a crèche some days so Belly Button mums can have their kids minded while they're working. Belly Button is also passionate about helping others and a portion of every item sold is donated to World Vision. Over the years Belly Button has raised over $150,000 for World Vision."

Snapshot…
What is Belly Button?
An Australian-made maternity wear label… that is Sexy, Sassy and Sophisticated.
What does this mean?
Maternity wear for fashionable, funky young mums.
Why it's Cool…
Functional clothing has been given a sassy edge. Australian brand adopted by celebrity A-list (Angelina Jolie, Sarah O'Hare, Claudia Karvan, Nicky Buckley, etc.).

Vital Statistics
Belly Button Maternity
• Industry: Retail

• Based: VIC

• Start Year: 2000

• Structure: PTY LTD

• Shareholders: 1

• Staff 19

• Exit: Trade sale within 2-5 years

• Export: >10%

• Motivations: 100% wealth creation

• Start Cap: 25K (family, friends)

• Goal: Trade sale
---
Unwired Australia
Unwired's Cool Company application talked up the company's innovative and collegial culture (and who are we to say the open-plan offices and company barbeques don't encourage communication between professional colleagues?). But that's not why the judges voted for Unwired's inclusion in the top 10 finalists. Ultimately, Unwired's seriously cool credibility is tied up in the lightning-rod speed and impact with which it has challenged Australia's behemoth incumbent telecommunications carrier, Telstra.
Today, you can connect an Unwired wireless card to your laptop and have an 'always on' broadband internet connection virtually wherever you travel within Sydney and Melbourne.
The company was formed following the successful acquisition of the 3.5GHz radio spectrum during a 2000 government auction. At the time, many considered it to be "orphan spectrum", but Unwired founders Steve Cosser and Chris North saw its potential as a vehicle for wireless internet in Australia.
Unwired's entry into the market is profound for two reasons. Firstly, it is one of the main reasons why wireless broadband has become mainstream in Australia today, because its ubiquity and reasonable price/download ratio, alongside other early movers (such as iBurst), forced the major carriers to offer wireless solutions of their own. Secondly, it is perfectly placed to move to Mobile WiMAX when the global standard becomes commercially available in 2007.
For helping to change the face of Australia's communications industry (for the better), our judges placed Unwired in our top echelon of "cool" companies.

Snapshot…
What is Unwired?
A wired-area wireless broadband internet service provider using pre-WiMAX technology.
What does this mean?
Always on city-wide wireless broadband; like airborne mobile phone coverage, but for broadband internet.
Why is it Cool?
Early adoption of new technology that circumvented Telstra's vast "last mile" fixed infrastructure advantage. Rapid rollout, savvy marketing, key alliances with top tier global companies (Intel, Google).

Vital Statistics
Unwired Australia
• Industry: ICT

• Based: NSW

• Start Year: 2003

• Structure: Public

• Staff 110

• Export: No

• Motivations: 100% Business creation

• Start Cap: $100M (Institutional), $105M (ASX)

• Goal: New domestic markets
---
iMentor-pro
At first glance, business coaching/mentoring companies generally don't epitomise "cool". The concept is noble, but they generally manifest as self-absorbed old windbags lecturing doe-eyed protégés on how to be more like them. But iMentorpro, a "virtual business", stands out from the crowd for its no nonsense culture and commitment to technology as a means of imparting wisdom to young executives and entrepreneurs.
Perhaps the most impressive thing about iMentor-pro is that it places the mentees (those being mentored) at the centre of the mentoring process. The company was launched in 2004 when founder Michael Donovan surveyed the state of the domestic business mentoring industry and thought he could build something better. Donovan describes the network as "a bunch of old farts" who "refuse to be pastured" and "want to help others do a better job, ease tension, share experience, show the way and shine a light". In short, "We offer a process that reduces mistakes by sharing our cock-ups with others so they are better than we were." How many mentoring/coaching companies do you hear sell themselves like that?!
iMentor-pro offers a guild of skilled mentors who are matched with mentees. The mentor assists the mentee by imparting advice, suggested readings, referrals and general assistance tailored to the mentee's specific circumstances. A software package called Socrates Mentor-Monitor offers a secure and non-intrusive way for measuring the performance of the mentor, the progress of the mentee and alignment with business results.
It's a package that pushed the right buttons for our judges, providing a much needed service as the 'baby-boomer' generation moves into retirement. iMentor-pro is more than just a cool idea. It's a cool company.

Snapshot…
What is iMentor-pro?
An alliance of former CEOs, partnering to mentor 'fast-growth' business owners.
What does this mean?
Grey hair plus youthful exuberance to build solid, sustainable Australian companies.
Why is it Cool?
Using cutting-edge technology to impart the wisdom of generations. All functionality is electronic. Mentors with 'attitude'.

Vital Statistics
iMentor-pro
• Industry: Executive Development

• Based: QLD

• Start Year: 2004

• Structure: PTY LTD

• Shareholders 1

• Staff 2 + mentors

• Exit: Trade sale in 2-5 years

• Export: >10%

• Motivations: 100% Business creation

• Start Cap: $20K (savings)

• Goal: Dominate niche
---
MyVirtualHome
When it comes to interior decorating, trial and error just got a whole lot cheaper! It has to be pointed out that the full impact of just how cool MyVirtualHome (MVH) is can only truly be gleaned through a demonstration of the software.
MVH is a free, near photo realistic, home design software package that enables consumers to create a project, research, select and include real products, view it in 3D then locate and communicate with local suppliers, trades or consultants for everything they need to get the project completed. The company draws revenue from an ever expanding catalogue of products and services that are connected to consumers through the MVH software and website.
Apart from the actual product, judges were impressed with MVH's evolution, with founder Paul Condon at the helm, from CAD technology software developer to innovative and fully-integrated advertising vehicle, which has enabled the technology to fulfil its potential by connecting businesses to consumers on a large scale. Launching in 2003, MVH seems to be growing exponentially, licensing the software to Europe and developing the broader model for rollout internationally.
For developing a cool piece of technology and using it to develop a much broader business with significant global potential, how could we not acknowledge MyVirtualHome as being one of Australia's coolest companies?

Snapshot…
What is MyVirtualHome?
Photo-realistic, 3D home design software and product library.
What does this mean?
Allows consumers to see what their interior design and product selections will look like in their home prior to committing… and it's free.
Why is it Cool?
State-of-art, market leading, 3D simulation software with commercial purpose.

Vital Statistics
MyVirtualHome
• Industry: 3D Software

• Based: QLD

• Start Year: 2003

• Structure: PTY LTD

• Shareholders >1000

• Staff 16

• Exit: Aspiration to IPO in 2-5 years

• Export: 81-100%

• Motivations: 60% Business creation; 40% Wealth creation

• Start Cap: $90K (bank) + $125K (savings) + $2.7M (grant)

• Goal: Dominate global niche
---
Taylor & Khoo
No fat pay checks here. In fact, the owners don't earn a cent. The inherent coolness of Taylor & Khoo is enough to make some of the lesser Cool Company award entrants blush.
Kylie Taylor and Valerie Khoo scribbled a business idea on a bar napkin while on holiday in Cambodia in 2002. They had just met some local disabled and handicapped people – mostly landmine and polio victims – working in small sewing workshops. The two Australian women resolved to help these people, by working with them to produce a line of women's clothing and fashion accessories that would appeal to customers in Sydney. Four years on, Taylor & Khoo have created a sustainable social-cause business, with all profits returned to the Cambodian workers.
Everyone benefits – Australian women get the opportunity to purchase beautiful gowns made from fine Cambodia silk while supporting a good cause, and Cambodian families get desperately needed resources. But the business was by no means easy to build. The pair had no business experience, no local language skills and no contacts. They had to battle corruption and red tape (it took several weeks just to set up a Cambodian bank account) just to get everything in place to start producing and exporting.
To date, Taylor & Khoo has not spent a cent on advertising, relying on the good will and PR of celebrities and friends promoting both the brand and the cause far and wide. Meanwhile, the business has raised $100,000 for the orphanage in Siem Reap, Cambodia. And both women still support themselves with day jobs.
Why are you cool?
"Because everyone told us we were crazy and that it couldn't be done. We proved them wrong and have helped a lot of people in the process."

Snapshot…
What is Taylor & Khoo?
A fashion and homeware label that provides income generation for disadvantaged groups in Cambodia.
What does this mean?
Social cause business that works with Cambodian sewing workshops to produce fashion and homeware items. Why is it Cool?
Neither of the business owners earn one cent from the exercise that empowers commercial activities in impoverished communities. (Gold is not all that glitters.)

Vital Statistics
Taylor & Khoo
• Industry: Retail

• Based: NSW

• Start Year: 2004

• Structure: Private

• Shareholders <10

• Staff 2

• Export: <10%

• Motivations: 100% Business creation

• Start Cap: Savings

• Goal: Returns to communities
---
SwapAce.com
The e-commerce/online auction market is very crowded indeed. If you're going to challenge the eBays of this world, then you'd better have something up your sleave. Could this group of young Sydney-siders have what it takes?
Launching in late 2004, SwapAce.com is still a young company. But there was enough to like about this business for our judges to give it the nod as a Cool Company finalist.
SwapAce.com is a web-based system that enables users not just to buy and sell goods, but swap and barter with virtually anything – products, services, events, etc. The company has patented several features of its system, including its electronic "bartering system", electronic "negotiation system", "offer management system" and "reverse" auction system. In short, this means that you can buy, sell and swap virtually anything; you can make multiple counter offers and negotiate the terms of the transaction until all parties are happy; and you can make offers across multiple transaction concurrently, enabling buyers to "shop around" during negotiation.
Swapace.com founder Joseph Renzi gives a simple example of a recent SwapAce.com transaction. "A kid wanted guitar lessons, but could not afford them. We matched him a guitar teacher who was willing to give free guitar lessons every time the kid washed the teacher's car – a win-win scenario…"
SwapAce.com has a long way to go before it can even be considered in the same ball park as eBay. But with an innovative product and a federal government COMET grant now behind it, it's in with a chance. For having a go, it's already cool in our eyes.
Creative marketing
"Our most creative marketing campaign involved staff members walking half-naked around the busy streets of Sydney, wearing sandwichboards saying 'I swapped everything I own @ SwapAce.com'.

Snapshot…
What is SwapAce.com?
An e-commerce site incorporating electronic bartering and negotiation.
What does this mean?
Users have far more control over the buying and selling process than eBay. Why is it Cool?
New model, growing fast, incorporates exchange of services into the bargaining process… while taking on an internet giant.

Vital Statistics
SwapAce.com
• Industry: E-commerce

• Based:
Need to raise capital? Want to become a more persuasive presenter? Want to master social media? Is it time to overhaul your website? Unlock the library to get free access to free cheat sheets and business tools. Click here for free business tools.