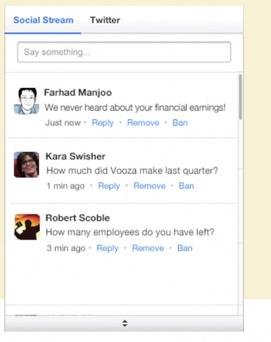 It's yet another cracking comedy video from my favourite startup parody, Vooza.
I've just realised that Vooza rhymes with loser. I'm pretty sure I should have realised that long before now.
In this earnings call live video chat, the Vooza CEO manages to fire almost the entire team. Live on chat.
This may sound familiar. AOL CEO Tim Armstrong did exactly this on a conference call last year.
It's comedy gold and Australia gets an honorary mention for something that is not at all relevant.
I heart Vooza!
You know what is even more awesome about this video?
It's actually a sponsored video by UStream, the providers of the technology needed to do a live video chat earnings call.
It's perfect content marketing. The UStream marketing team deserve a round of applause!
Vooza – Earnings call
[videoframe] [/videoframe]