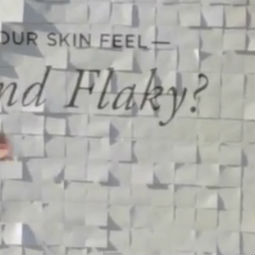 Burt's Bees is an iconic skin care range. It's known for it's simple packaging, the use of honey and a rather tasty range of lip balms.
In the latest marketing campaign for the skin care range, coupons were used to create a billboard, and to prove a point about its products.
This clever marketing stunt reveals the effects of using its products, while also giving customers a coupon to redeem.
The stunt was the result of a clever idea, a lot of post-it notes and natural curiosity. Who says old-fashioned coupons don't have a place in modern marketing?
Burt's Bees Intense Hydration | A natural before & after
Need to raise capital? Want to become a more persuasive presenter? Want to master social media? Is it time to overhaul your website? Unlock the library to get free access to free cheat sheets and business tools. Click here for free business tools.